Live Coverage of Apple's iPad Mini Media Event [Event Ended]
Apple is holding a media event today at the California Theatre in San Jose, California, where it is expected to introduce the iPad mini, a 13-inch Retina MacBook Pro, a tweaked full-size iPad with Lightning connector, and updated Mac mini models. A release of the company's revamped iTunes software also likely and iMac updates are a possibility. The event is scheduled to kick off at 10:00 AM Pacific Time / 1:00 PM Eastern Time.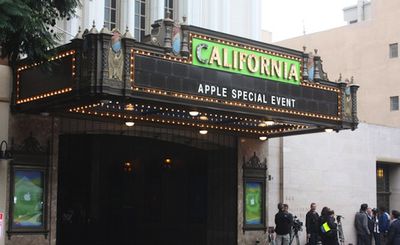 Photo by Dean Takahashi/VentureBeat
For the first time in two years, Apple will be providing a live video stream of a media event via its
website for Mac and iOS users
and
Apple TV
.
Live Video Stream of Apple's iPad Mini Media Event
In addition to Apple's video stream, we will be updating this article with coverage and issuing Twitter updates through our @MacRumorsLive account as the media event unfolds. Separate news stories regarding the event announcements will go out through our @MacRumors account.
Apple's online stores around the world are currently down in advance of the event.
Recent News and Rumors
- 'iPad Mini' Name Confirmed by Smart Cover Part Descriptions
- 13-Inch Retina MacBook Pro Starts at 128 GB Flash Storage, Mac Mini Goes Quad-Core
- Four New Lightning Adapters, Higher-Power iPad Power Adapter Coming Today
- New Full-Sized iPad to Have Upgraded FaceTime Camera?
Live Transcript

- Event begins at 10:00 AM Pacific / 1:00 PM Eastern
The lifestream has begun with wide shots of the theater and the crowd. We are hearing reports of extremely laggy and stuttering connections on the livestream.
As usual, Apple CEO Tim Cook begins with an overview of the state of the company, starting with the iPhone 5. It was the strongest iPhone launch ever with more than 5 million phones sold the first weekend. Apple is showing a promotional video for the iPhone 5 launch.
Now recapping last month's new iPod, as well as iOS 6. Apple reports that iOS 6 is running on more than 200 million devices, calling it "the fastest upgrade rate of any software in history that we're aware of."
On to iCloud. Customers have 125 million documents uploaded to iCloud and have sent 300 billion iMessages over the past year at a rate of more than 28,000 per second. 70 million photos shared via shared photo streams.
Regarding the App Store, Apple now has 700,000 apps on the store, including 275,000 apps specifically for iPad. Customers have downloaded 35 billion apps from the store. Apple has paid out $6.5 billion to developers.
Apple now has more than 1.5 million books on the iBookstore, and 400 million books downloaded since the launch of the store.
Updating iBookstore with new features: Continuous scrolling, sharing of passages on Facebook and Twitter, iCloud syncing support, and support for 40 new languages including Korean and Japanese.
Now on to the Mac.
Mac has been outgrowing the PC market for 6 years straight, and Apple sells the number 1 desktop and number 1 notebook models in the US. "We're really pleased with all of the momentum of the Mac. But we are not standing still. We're going to continue innovating with the Mac."
Phil Schiller is out now to demo some new products.
"You might not know that our best selling notebook is the 13" MacBook Pro." Now, introducing new 13" MacBook Pro with Retina.
.75" thick, 20% thinner than the old model, and 3.5 pounds. No optical drive and includes IPS Retina display. MagSafe 2, two Thunderbolt ports, USB 3.0, dual mics, stereo speakers.
4,096,000 pixels, 2560 x 1600. "There's never been a small notebook that gave pro photographers this kind of technology and capability."
Ivy Bridge Intel Core i5 or i7 processors, comes standard with 8GB of RAM and up to 768GB of SSD storage. Intel HD Graphics 4000 graphics processor. 7-hour battery, backlit keyboard.
Starts at $1699, 2.5GHz dual-core i5, 8GB Ram, 128GB SSD. Shipping today.
Now showing off a new television ad. "The new 13" MacBook Pro… for the pro in all of us."
The full line of Apple notebooks start at $999 for the 11" MacBook Air, and run all the way up to the 15" MacBook Pro with Retina Display maxed out at $2799.


Next up is the Mac Mini. "You knew there'd be something called mini in this presentation, didn't you?"
The update for the Mac Mini is on the inside. Adding Bluetooth 4.0, dual or quad Intel Core i5 or i7 processors, up to 16GB of RAM, 256GB SSD or 1TB HDD. Shipping today.
Now, iMacs. The #1 desktop computer in the US. We've had 7 generations of the iMac, all better than the last."


New iMac is extremely thin, lacking optical drive. 5mm thick at the edges, 80% thinner than before. Thickens slightly towards the middle. Using a new technology called friction stir welding to make the case. The display is 45% thinner than the prior generation.
Still 27" and 21.5", not retina. 2560x1440 and 1920x1080 IPS displays. Fully laminated glass for 75% less reflection. FaceTime HD camera and stereo speakers.
Ivy Bridge Intel Core i5 and i7, four USB 3 ports, two Thunderbolt ports, up to 3TB storage, SD card slot on the rear.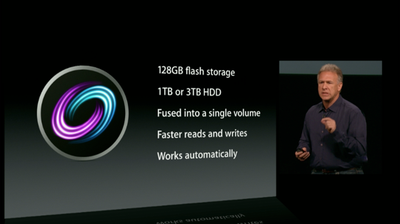 New "Fusion Drive". Combined 128GB SDD and 1TB or 3TB HDD drive, "fused together with software." Core applications and the OS automatically go on the SSD while documents stay on the HDD. Mountain Lion determines apps you use most and automatically puts them on the SSD. Performance approaches that of SSD. Uses 50% less power when idle.
iMac starts at $1299 for 21.5", 8GB RAM, 1%B HDD, GeForce GT 640 graphics. Begins shipping in November. 27" starts at $1799, shipping in December.
Tim Cook comes back out. "These products are really cool."
"Next, I'd like to talk about iPad." Apple has sold more than 100 million iPads. Apple shipped more iPads in the June quarter than any PC manufacturer sold across their entire line. The iPad has a 91% share of tablet web traffic. "Why is iPad so phenomenally successful? … People love their iPads!"
Cook is going over customer testimonials and the reasons customers love the iPad. Lots of focus on textbooks and the use of iPad in education.
Updated iBooks Author, including new templates, user-included fonts, mathematical expressions, multitouch widgets, publishers can remotely update their books. Available today.
Now talking about the business world. 94% of Fortune 500 companies are testing or deploying the iPad. "Just getting started."
"We're not taking our foot off the gas."
Phil Schiller returns to the stage. "Half a year ago, we introduced the 3rd generation iPad with Retina display." Now, "we're sitting here to talk about the 4th generation iPad."


New iPad includes A6X chip, double the CPU and graphics performance of the A5X. 10-hour battery life. Cellular version has expanded international LTE, including Sprint in the US. Higher speed Wi-Fi and Lightning connector. "So much faster than the competition, I can't even see them in the mirror."
Added Lightning to USB and Lightning to SD card adapters. Same configurations as prior generation, same pricing. Black and white colors.
The iPad Mini. "I think you know what this is."


"This isn't just a shrunken down iPad. There's nothing as amazing as this." Incredibly thin and beautiful, incredibly thin and light."
7.2mm thick, 25% thinner than full-size iPad. 0.68 lbs, 53% lighter. Available in black and white aluminum like the iPhone 5.
7.9" display, 1024x768. Same resolution as the iPad 2. All iPad software will work with no changes.


Comparing the iPad mini to an unnamed new Android tablet. Metal vs plastic, 7" display versus 7.9". "The iPad mini has a third larger display area." Comparing webpage display area; iPad Mini shows 49% more of the webpage on the vertical, 67% more on the horizontal.


A5 processor, LTE edition, FaceTime HD camera, 5MP iSight on back, Lightning connector, 10-hour battery. Lots of comparisons to the iPad 2 and all the way's the mini is better.
Apple has created a video featuring Jony Ive talking about the design and engineering that went into creating the iPad mini. "We wanted to keep the things that make the iPad so magical." Ive is talking about chamfers again.
New accessories for the iPad mini; new Smart Covers.
Starting at $329 for 16GB Wi-Fi model. $459 for 16GB LTE model.
The iPad 2 sticks around for $399, and new 4th-gen iPad with Retina starts at $499.


Preorders start Friday, Wi-Fi models ships November 2. Available in a very wide range of countries. LTE models ship 2 weeks later in the US and then slowly around the world.
Plays a new TV ad showing off the newest member of the iPad family.
Tim Cook is back, going back over what Apple has done so far in 2012.
"We hope you love these products as much as we loved creating them. I'd personally like to thank all of the teams at Apple for working so hard creating the things you've seen today… They dedicate a huge part of their lives to making the best products on earth. These are the most talented and most innovative people I know."