New Full-Sized iPad to Have Upgraded FaceTime Camera?
BGR posts what it claims to be photos from a new iPad's display assembly. BGR refers to the part as an "iPad 4" part but is somewhat uncertain about exactly what the part could represent.
Apple is believed to be working on a revised full-size iPad (in addition to the iPad mini) that could also be launched on Tuesday as part of their media event. The new iPad would have a lightning connector and expanded LTE support. And, according to BGR, could have an improved FaceTime camera: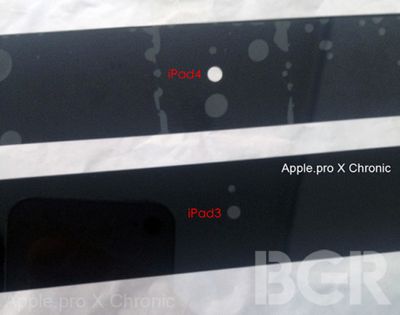 They point to an enlarged front-camera opening as evidence that Apple could be upgrading the front-camera on this new iPad.
The most noticeable changes we can see are the fact that the front-facing camera cutout is larger than the previous model, allowing Apple to include a bigger sensor.
A larger sensor could allow for a higher quality camera. At the moment, the iPad's front camera offers "VGA-quality" photos. Notably, the iPhone 5's front-facing camera was upgraded to 720p video and 1.2MP photos, suggesting this is a direction they could also take the iPad.
BGR acknowledges that the part, however, could be for a future iPad update.
Apple's media event kicks off on 10 AM Pacific / 1 PM Eastern on Tuesday, October 23rd.