Panel Installation Nearly Complete at Apple's Massive North Carolina Solar Farm
We've been following Apple's work at its Maiden, North Carolina data center for quite some time, and early last month we saw some good aerial photos showing ongoing work at the site including the installation of a major solar farm to help meet Apple's renewable energy goals for the center.
GigaOM now shares some new video stills shot from the air by WCNC-TV showing that installation at the massive solar farm is nearly complete with the 100-acre site now filled with row after row of ground-mounted solar panels.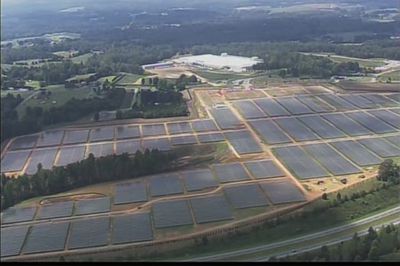 The solar farm is just one of two being developed Apple to support the data center, with the one captured on film located directly across the street from the center and the other located a few miles away. Together, the two similarly-sized solar farms will provide roughly 40 megawatts of power, with an on-site fuel cell facility providing an additional 5 megawatts.


Regulatory documents indicate that Apple plans to complete installation at the solar farm across the street from its data center by November 1, with operation set to commence by December 21. While solar panel installation appears to already be nearly complete, it is unclear if Apple is ahead of schedule on the project, as there is undoubtedly additional infrastructure work that will be required before the solar farm becomes operational.
Following some criticism from environmental group Greenpeace that overstated Apple's reliance on dirty energy sources for its data center power, Apple went public with plans to power all of its data center with 100% renewable energy. Beyond the North Carolina data center, Apple operates a smaller center in Newark, California near its headquarters and is in the process of developing new centers in Oregon and Nevada.