Aerial Photos of Recent Work at Apple's North Carolina Data Center
Several weeks ago, we noted that Apple was already undertaking a minor expansion of its massive data center in Maiden, North Carolina, having received permits for a roughly 20,000 square-foot "tactical data center" located adjacent to the existing 500,000 square-foot facility.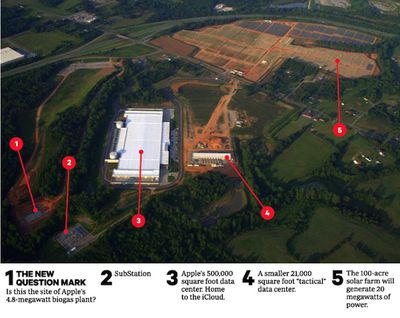 Wired has now obtained aerial photos of the site taken earlier this week, showing not only the new tactical data center but also ongoing installation of solar panels at the 100-acre solar farm across the street from the data center and what appears to be the 4.8-megawatt fuel cell facility behind the data center.
Nobody knows exactly what an Apple tactical data center is supposed to be, but according to Rackspace Chief Technology Officer John Engates, who has spent his fair share of time in windowless buildings racked with servers, it may be a neutral spot where Apple partners can come and plug their gear into Apple's grid without getting any exposure to the fantastic secrets housed in the larger 500,000-square-foot facility.

Apple's new tactical data center with cooling units feeding building and backup generators along road

Solar panels installed at Apple's 100-acre solar farm across Startown Road from data center

Foundations likely to be for fuel cell facility adjacent to data center
Apple's North Carolina data center is just one of a series of planned major data centers designed to support the company's iCloud services and other offerings. The company already operates a smaller data center in Newark, California near its corporate headquarters in Cupertino and has revealed plans for major new data centers in
Oregon
and
Nevada
.