Apple's Data Centers to Be Powered by 100% Renewable Energy
Earlier today, we noted that Apple had received official approval for its 20-megawatt solar farm across the street from its data center in Maiden, North Carolina. But even more significant developments are also occurring today, with Apple posting a new page to the environmental section of its website touting that all of the company's data centers will be powered by 100% renewable energy.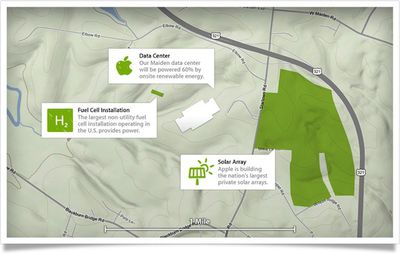 At the North Carolina site, the previously-annnounced 20-megawatt solar farm is being joined by a second farm of equal size a few miles away. Combined with the 5-megawatt fuel cell facility also being built at the data center, 60% of the data center's power needs will be generated on site. The remaining 40% will be purchased through agreements with outside renewable power producers.
We're currently building two solar array installations in and around Maiden. These sites use high-efficiency solar cells and an advanced solar tracking system. A 100-acre, 20-megawatt installation on the same site as our data center will produce 42 million kilowatt-hours (kWh) of energy annually. A 100-acre site located a few miles away will produce another 42 million kWh. Together that's 84 million kWh of clean, renewable energy supplied annually. When our bio-gas-powered 5-megawatt fuel cell installation comes online later this year, it will provide more than 40 million kWh of renewable energy annually. This means Apple will be producing enough onsite renewable energy — 124 million kWh — to power the equivalent of 10,874 homes.
Apple's efforts in renewable energy will also extend to its other data center facilities, as the company previously disclosed that its upcoming Prineville, Oregon data center will be powered by 100% renewable energy. And the new page posted today reveals that the company's original, smaller data center in Newark, California will soon be powered by renewable energy as Apple works to locate and purchase clean energy for the facility, with the capacity scheduled to be in place by February 2013.
Greenpeace last month bashed Apple using estimates it claimed showed that only 10% of the North Carolina data center's power would be from renewable sources. Apple rebutted those claims, noting that at least 60% of the center's energy would be from renewable sources. With today's announcements, Apple has expanded its efforts even further to power all of its data centers with 100% renewable energy.