7-Inch iPad with Retina Display Coming in October Priced at $200-$250?
iMore reports that Apple is "currently targeting" an October launch for a smaller iPad, with the device carrying a display of roughly 7 inches and being priced in the $200-$250 range.
According to our source, which has proven reliable in the past, the reason for such aggressive pricing is to do to the tablet market what Apple did to the MP3 market in 2004 with the expansion of the iPod product line -- leave absolutely no space for competitors.
Interestingly, the report's source claims that the 7-inch iPad will be "identical in every way" to the current iPad with the exception of the display size, apparently including a Retina display. That would give the smaller iPad a pixel density roughly identical to that of the iPhone 4S.
It remains unclear how Apple would be able to meet a $200-$250 price point for the smaller iPad given the apparent specs, although the device will reportedly come with only 8 GB of storage. Still Apple's current iPod touch starts at $199 and this smaller iPad will undoubtedly carry significantly higher component costs.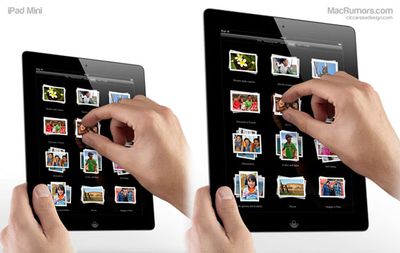 Mockup of 7.85-inch "iPad mini" next to iPad 2 (courtesy of CiccareseDesign)
Reports of a smaller iPad have been circulating ever since the launch of the original iPad, enhanced in recent months by perceived competition from Amazon's $199 Kindle Fire. The sheer number of rumors suggest that Apple has at least been working on such a device, and
reports of a planned launch
for later this year have been increasing. Most observers have, however, believed that the device would carry a non-Retina display in order to allow Apple to meet lower pricing targets.
iMore has been rather accurate with its recent iOS device rumors, correctly pinpointing the third-generation iPad launch event date back in February and backing claims of LTE compatibility for the device ahead of its launch.
The site has since offered claims of a smaller dock connector for the next-generation iPhone, an idea which has been gaining traction with other rumors. The site has also issued claims of a fall (likely October) launch of an LTE iPhone anticipated to carry the same 3.5-inch display size seen in all iPhone models to date.