This is What a 7.85-Inch iPad Looks and Feels Like
There's been increasing chatter in the rumor mill about the possibility of a smaller 7.85" iPad that could be introduced sometime in 2012.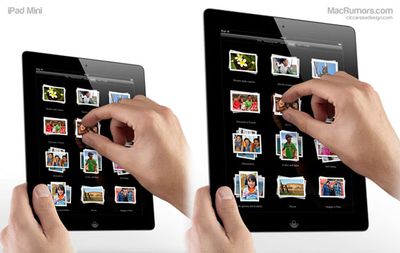 7.85" iPad on left, 9.7" (current) iPad on right
The rationale behind the smaller form factor is for Apple to better compete against the new
7" Kindle Fire tablet
from Amazon. Amazon's new Kindle line seems to be an early success with
over 3 million
sold over the first three weeks. Amazon doesn't break down the numbers for individual models but calls out the Fire as "the most successful product we've ever launched".
Apple's never been one to try to compete spec for spec against their competitors. The iPhone, for example, has kept the same basic form factor across 5 different generations, despite a proliferation of different sizes amongst its competitors. While we're not sure what makes a smaller iPad different, we've heard it frequently enough that we believe Apple is in late prototyping phases for such a device.
The supply chain has actually been very specific about the screen size of this rumored iPad. According to Chinese manufacturers, Apple is buying up 7.85" screens for this upcoming mini iPad. So, we asked our friends at CiccareseDesign to put together these mockups of what a 7.85" iPad would look like in comparison to the existing 9.7" iPad.
They also created this "actual size" PDF that can be printed out so you can play with one yourself in real life.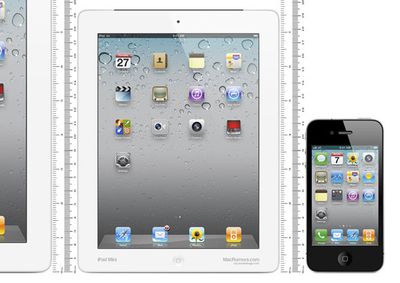 Download Printable PDF
:
Home Screen (6MB)
,
Keyboard (18MB)
View on an iPad
:
Actual Size
Simply print the PDF at 100% size on your printer, and you too can see what a 7.85" iPad feels like in hand. If you don't have a printer handy, you can view it in
actual size
in an iPad web browser. If you save it as a web icon on your home screen, it will then launch without a menu bar so you can fully appreciate the size.
The 7.85" iPad actually feels a lot smaller than the existing iPad. The user interface elements, however, don't feel that far out of place. Icons are smaller than the 9.7" iPad, of course, but still bigger than the icons found on the iPhone. The on screen keyboard also seems quite usable at this size. Other elements, such as Safari's location bar, do scale down but, again, are no smaller than what we've seen on the iPhone.
We should point out that Steve Jobs had been adamant that a 10-inch screen is the minimum necessary for a tablet, and in a conference call said that he didn't believe a 7-inch tablet was a good user experience:
We're not not making a 7-inch tablet because we don't want to hit a lower price point. We just believe it's too small to hit the user experience people want. When we make decisions, it's not about cost, it's about value when you factor in the software. We're all about the best products at aggressive prices.
So, based on that stance, it might seem unlikely that Apple would produce such a device, but they've been known to change their mind before.