Apple Reportedly Looking to Launch 'iPad Mini' Priced at $249-$299 in Q3
Kotaku reports on claims [Google translation] from Chinese web portal NetEase regarding Apple's plans for the launch of a smaller "iPad mini" in the third quarter of this year. According to the report, Apple is planning to launch with six million units of the device at a price of either $249 or $299 in order to combat forthcoming Windows 8 products, although smaller Android tablets such as Amazon's Kindle Fire have also been viewed as targets for Apple.
NetEase claimed that the device will be released around the third quarter of this year to "counter attack" the upcoming Windows tablets. The report further claims that the devices will cost anywhere from US$249 to $299 and that there will be an initial 6 million units ready for launch.
The well-connected John Gruber has claimed that Apple has a 7.85-inch iPad in its labs, but he does not know whether the product will ever make it to market. Various claims of Apple moving closer to production of the smaller iPad have also been surfacing as rumors continue to swirl.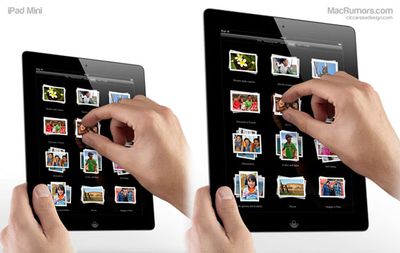 Mockup of 7.85-inch "iPad mini" next to iPad 2 (courtesy of CiccareseDesign)
Last December, we posted a
paper mockup
showing what a 7.85-inch iPad would look and feel like, coming to the conclusion that onscreen elements would remain usable even as the standard iPad resolution of 1024x768 was squeezed into a 7.85-inch display rather than a 9.7-inch screen. A 7.85-inch "iPad mini" display with a resolution of 1024x768 would carry a pixel density of
163 pixels per inch
, exactly the same density as the non-Retina iPhone and iPod touch models. Consequently, content meeting Apple's interface guidelines would display at acceptable sizes on such a display.