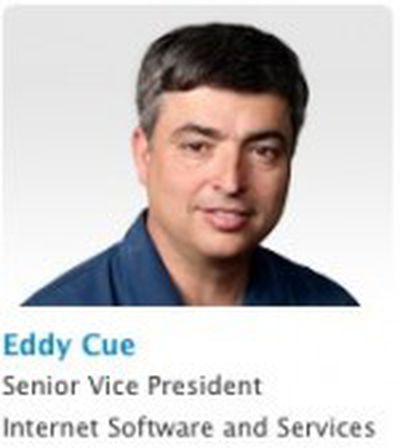 As revealed in a new filing with the U.S. Securities and Exchange Commission, Apple has awarded Eddy Cue an additional 100,000 shares of company stock in the form of restricted stock units. The stock units were issued on November 2nd and will vest in September 2014 (25,000 shares) and September 2016 (75,000 shares) if Cue remains employed by Apple at those milestone dates.
At Apple's present stock price, the stock would be worth $40 million, although the final value will be determined as of the dates that the different portions vest.
This is the second such grant Cue has received since being promoted to senior vice president for Internet software and services two months ago. The first batch of 100,000 restricted stock units was awarded on September 2nd following his promotion, and those units will vest in two equal portions in August 2013 and August 2015. Cue also holds a number of other restricted stock units that he had been awarded prior to his promotion.
Cue has been at Apple for 22 years, and played an integral role overseeing the iTunes Store and App Store. His role has significantly expanded over the past year or so, adding oversight of Apple's iCloud service and iBookstore. Just this past August, Cue also took over leadership of the iAd program following the departure of Andy Miller.