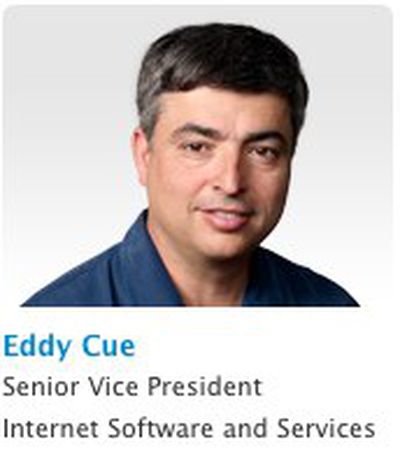 In recognition of Eddy Cue's promotion to Senior Vice President of Internet Software and Services, Apple has awarded Cue 100,000 restricted stock units with half vesting in 2013 and the other half in 2015, pending continued employment through the vesting dates.
This stock is worth $37.4 million at current prices.
A restricted stock unit, or RSU, is a form of compensation valued in terms of company stock, but the stock is not issued at the time of the grant. It instead vests at a later date pending continued employment with the company.
Additionally, as a new officer in a publicly traded corporation, Cue has submitted an SEC Form 3 or "Initial Statement of Beneficial Ownership of Securities" with the SEC. This document shows what stocks and options Cue holds as a senior vice president of Apple, Inc. Cue received 76,250 RSU's over the past four years, presumably as part of his yearly bonus.
Last month, Apple awarded new CEO Tim Cook 1,000,000 RSU's as part of his retention bonus to stay through 2021.