Lion Internet Recovery Comes to Current-Generation iMacs
Apple today released a series of firmware updates for its 2011 Mac lineup, addressing several issues to increase the stability of the systems. But the iMac EFI Update 1.7 goes a bit further, bringing the Lion Internet Recovery feature to the current generation of iMac models. The iMac update also specifically addresses several Thunderbolt performance issues.
About iMac EFI Update 1.7

This update enables Lion Recovery from an Internet connection and includes fixes that resolve issues with Apple Thunderbolt Display compatibility and Thunderbolt Target Disk Mode performance on iMac (early 2011) models.
Internet Recovery launched as part of OS X Lion in July, allowing users to easily install the operating system on a blank hard drive, a feature that is handy for users who are replacing their hard drives or for whom the recovery partition included on their Lion system becomes inaccessible. Internet Recovery functions by adding a minimal bootable install onto a machine's firmware to allow it to connect the Internet and download the full Lion operating system for installation.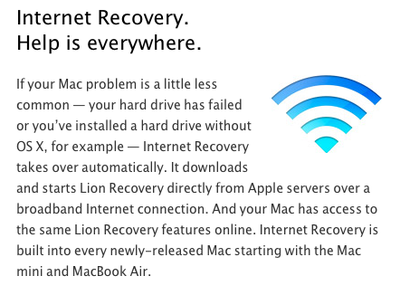 Internet Recovery initially debuted on the MacBook Air and Mac mini models that were released alongside OS X Lion, but was extended to the Early 2011 MacBook Pro line last month. With the addition of the iMac, all of Apple's current Mac models with the exception of the Mac Pro are now capable of accessing Lion Internet Recovery. The Mac Pro has not been updated since mid-2010, and delays in Intel's chip production appear to have pushed any refresh into next year.
In addition to the iMac EFI firmware update released today, Apple also pushed out MacBook Pro EFI Firmware Update 2.3 for Early 2011 models, MacBook Air EFI Firmware Update 2.2 for Mid 2011 models, and Mac mini EFI Firmware Update 1.4 for Mid 2011 models.