Apple Brings Lion Internet Recovery to Current MacBook Pro Models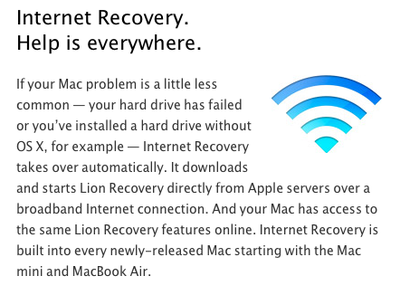 Apple this week released three firmware updates that include fixes to compatibility with the forthcoming Apple Thunderbolt Display, but the MacBook Pro firmware update released today brings another interesting addition to the company's current models: Lion Recovery over the Internet.
This update enables Lion Recovery from an Internet connection and includes fixes that resolve issues with Apple Thunderbolt Display compatibility and Thunderbolt Target Disk Mode performance on MacBook Pro (early 2011) models.
Internet Recovery debuted as part of OS X Lion to allow users to install the operating system on blank hard drives. The system works using a minimal bootable install on the machine's firmware that then passes off the full Lion install to the usual recovery mechanism, which downloads the operating system over the Internet.
Internet Recovery was initially available only on the new MacBook Air and Mac mini models that launched alongside OS X Lion, but Apple has now extended the capabilities to the MacBook Pro models introduced back in February.