Intel Chip Delays Suggest No New Mac Pro Until at Least Early 2012
Potential Mac Pro customers have been long awaiting updated models from Apple, with the last update to the line having come in July 2010.
Anticipation regarding an updated Mac Pro was heightened back in June as several claims of an imminent launch surfaced. Part numbers claimed to be for new Mac Pro models surfaced a few weeks later, but they instead ultimately turned out to be for new Mac mini models and the Apple Thunderbolt Display.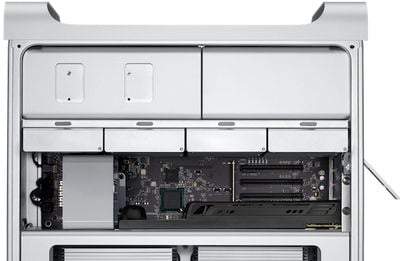 With the wait for new Mac Pro models continuing, hope surfaced once again in early September amid reports that Intel was planning a November 15th launch of new Sandy Bridge E processors and their Xeon E5 equivalents suitable for the Mac Pro.
But hopes for a Mac Pro launch before the end of the year appear to have been dashed, as Intel is now targeting an early 2012 release for the new chips. The news, first reported last month, has recently been confirmed with additional timeline information from CPU World.
In September, during Intel Developer Forum event in San Francisco, new information came to light implying that Xeon E5 launch is postponed until the first quarter 2012. Indeed, according to the latest Intel roadmaps, all Xeon E5 processors are going to be delayed by one quarter.

...

Xeon E5-2600, also compatible with socket R, is aimed at dual-processor workstations and servers, and contains 17 different dual-, quad-, six- and eight-core models with clock speeds up to 3.3 GHz. Both families will be released in Q1 2012. Despite the delay, there were no changes to E5-1600 and E5-2600 microprocessor line-ups.
Apple will almost certainly take advantage of the Xeon E5-2600 series in the next Mac Pro, likely targeting the E5-2620, E5-2650 and E5-2670 for the dual-processor configurations of the Mac Pro, offering options of 12 or 16 cores in those configurations. Single-processor configurations would likely also be made available using other chips.