Next Generation Apple TV References Found in iOS 5, But When?
One of the most common Buyer's Guide related question we get asked is "Is it a good time to buy an Apple TV?"
We've never tracked the Apple TV in our buyers guide because it's a product that seems to have no regular release cycle. Apple maintains that the Apple TV is a "hobby" project, and that attitude shows in its infrequent update cycle. The Apple TV is unique in that it is more of a living room appliance whose primary purpose is to play iTunes content on your television. As a result, as long as the Apple TV can play all present iTunes content, there's no compelling reason for Apple to offer a major hardware upgrade.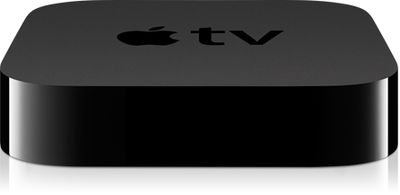 The Apple TV has only seen two major hardware revisions during its lifetime. First was the original launch back in 2007 and the second was September 2010 when Apple released a smaller iOS-based version. We noted in June that iOS 5 opened the door to a true 1080p-capable Apple TV, but no evidence of such a device had been seen.
9to5Mac has now spotted a reference to a yet-unreleased "AppleTV3,1" in the latest version of iOS 5. This suggests that Apple is working on a next generation Apple TV in its labs. The previous models have carried the codenames "AppleTV1,1" and "AppleTV2,1".
A new Apple TV could integrate Apple's new A5 processor, which offers much faster graphics processing, and include true 1080p support. But unless Apple plans on offering 1080p content on iTunes, that feature would be of limited use to the majority of consumers. Fortunately, Apple has been rumored to be prepping movie studios to start submitting 1080p content to iTunes.
We should note that when previous iPhone references have been found in iOS releases, we've seen a lead time of up to 15 months. So, an imminent release is not guaranteed.
Software evidence of Apple's future devices tends to appear rather early in the development process, as evidenced by iPhone3,1 appearing in iPhone OS configuration files in March 2009. That device turned out to be the iPhone 4, released 15 months later.
We also suspect that any new Apple TV may run up against Apple's future plans for television. There have been persistent rumors that Apple could be taking on the TV market at some point in the near future. The NYTimes revisited this speculation in the days following Steve Jobs' death.
But many in the tech industry contend that television is ripe for technological makeover, and that the next big challenge for Apple, after the death of Mr. Jobs, is likely to be in that area.
Last year, NYTimes' said that Apple was in negotiations over a new television subscription service but ultimately failed.
So, we can't be certain when Apple might be launching a new ApplebTV, but believe it would be tied to other offerings, either 1080p HD iTunes content or another television initiative altogether.