Apple Introduces Updated Apple TV with Netflix Integration, TV Show Rentals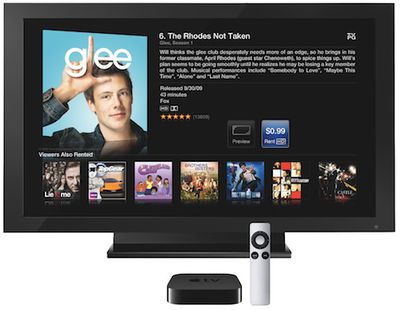 As hinted early in the keynote with the mention of TV show rentals, Steve Jobs today
announced
the second generation of
Apple TV
hardware, a significant redesign for the device. At one-fourth the size of the original Apple TV, the new device features HDMI and digital audio outputs, as well as Ethernet and 802.11n Wi-Fi and will offer only rentals from the iTunes Store.
Unlike the previous Apple TV, the new model will not have any significant internal storage, relying on streaming content only. Additionally, media can no longer be purchased but only rented. First-run HD movies can be rented for $4.99 on the day the DVD is released. Renting HD TV shows will cost $.99. At launch, only ABC and Fox will offer their HD shows for rental at this price.
Apple today announced the new Apple TV which offers the simplest way to watch your favorite HD movies and TV shows on your HD TV for the breakthrough price of just $99. Apple TV users can choose from the largest online selection of HD movies to rent, including first run movies for just $4.99, and the largest online selection of HD TV show episodes to rent from ABC, ABC Family, Fox, Disney Channel and BBC America for just 99 cents.
Apple TV also streams content from Netflix, YouTube, Flickr and MobileMe, as well as music, photos and videos from PCs and Macs to your HD TV. Enjoy gorgeous slideshows of your photos on your HD TV using Apple TV's selection of built-in slideshows. Apple TV has built-in HDMI, Wi-Fi, Ethernet and an internal power supply for easy set-up, and features silent, cool, very low power operation in an enclosure that's less than four inches square - 80 percent smaller than the previous generation.
The new Apple TV's support for Netflix's streaming service allows subscribers on a DVD rental plan costing $8.99 or more per month to access streaming content for no additional charge. Apple TV users will also be able to stream content from YouTube, Flickr, and MobileMe.
Apple's new AirPlay, which replaces AirTunes, will allow the streaming of content from an iOS device to an Apple TV. During the keynote, Jobs demonstrated streaming a movie from an iPad to an Apple TV over a Wi-Fi network.
Apple TV content will be available in six countries to start, with more coming later this year. The new Apple TV, priced at $99, comes with a remote control and will be available starting in about four weeks, with pre-orders starting today.