New iPhone and iPad Models Set to Begin Field Testing?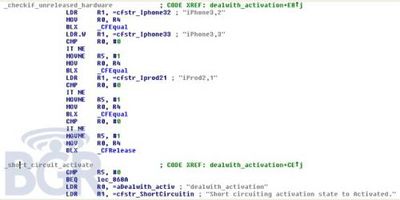 Boy Genius Report claims
that a source has revealed code in iOS 4 showing that new iPhone and iPad models may be set to begin field testing. The relevant code allows devices carrying the designations of iPhone3,2, iPhone3,3, and iProd2,1 to "auto-activate", a process said to allow carriers to test the devices without requiring manual activation through iTunes as is required for retail units.
Way down deep within iOS 4 is a pretty intriguing block of code. Our source says that the code queries the device, and if the device is either a CDMA iPhone or iPad 2, the device will auto-activate, thus bypassing the need for iTunes. We're told this block of code has appeared every year consecutively before a major iPhone / device release, removed right before launch.
These code names are not new, as they first appeared several months ago in iPhone OS 3.2 released for the iPad. Their presence in an "unreleased hardware" portion of code dealing with auto-activation does appear to be new, however, and the source claims that this presages field testing of the devices.
Software evidence of Apple's future devices tends to appear rather early in the development process, as evidenced by iPhone3,1 appearing in iPhone OS configuration files in March 2009. That device turned out to be the iPhone 4, released 15 months later. Evidence of field testing of the iPhone 4 appeared by late November 2009, more than six months before its public launch. Combined with claims that a CDMA-based iPhone 4 is in "engineering verification test" stage, this new evidence of software support for field usage of the new hardware continues to point to possible product releases sometime early next year.
The fact that the new iPhone models carry the iPhone3,2 and iPhone3,3 designations rather than "iPhone4,1" suggests that the hardware is a relatively minor revision to the existing iPhone 4, although it is unclear why there are two new iPhone models in testing. In addition, the assumption is that iProd2,1 is the next-generation iPad, as the current iPad began life as iProd1,1 before taking the name iPad1,1 closer to its release. An even earlier iProd0,1 is presumed to have been an iPad prototype.