Apple Phasing Out White MacBook in Favor of Entry-Level MacBook Air?
Concord Securities analyst Ming-Chi Kuo today reported to AppleInsider that Apple may be on the verge of phasing out its white MacBook, the company's longtime entry-level notebook. In particular, Kuo notes that internal shipment forecasts show build plans for the MacBook "suspiciously" tailing off next month with no signs of a replacement.
Analyst Ming-Chi Kuo of Concord Securities shared with AppleInsider Tuesday that industry checks show that Apple's internal shipment forecast for the white MacBook suspiciously drops-off in August of this year, which leads him to believe that the notebook may go "end of life" around the same time.
As noted in our Buyer's Guide, the MacBook hasn't been updated since May 2010, a period of 427 days. With supplies tightening late last month, speculation regarding a potential refresh or a discontinuation began to circulate.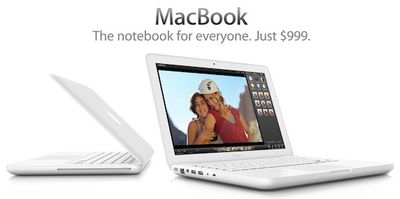 Signs of life sparked again last week when it was claimed that leaked part numbers for an upcoming hardware update included a new MacBook model. That interpretation was incorrect, however, as the part number in question turned out to be for an as-yet unreleased LED Cinema Display with Thunderbolt that leaked on Apple's own site late last week.
Kuo argues that with Apple's MacBook Air line now beginning at the same $999 price point as the MacBook, Apple may feel that it can discontinue the plastic notebook and direct consumers to the thinner and lighter MacBook Air line. Apple's MacBook shipments have reportedly fallen to just 80,000-100,000 per month so far this year, representing less than 10% of Apple's Mac sales.
With Apple rumored to be boosting the MacBook Air to a minimum of 128 GB of solid state storage, even the base model may be sufficient for many users. The MacBook Air does not, however, feature an optical drive, and entry-level consumers who still wish to have optical drive capabilities will have to either take advantage of the Remote Disc capabilities through an optical drive on another computer or purchase an external MacBook Air SuperDrive for an additional $79.