Questions Arise Over Google's Plans to Bring Free Turn-By-Turn GPS Navigation to iPhone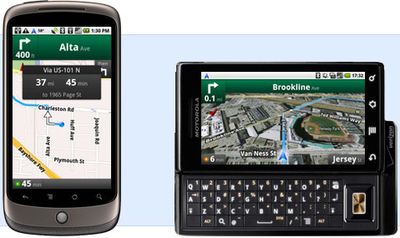 Last October, Google
announced
free turn-by-turn GPS navigation capabilities for its Android 2.0 operating system in the United States, launching the feature on the Motorola Droid handset the following month. At the time, Google vice president Vic Gundotra revealed that his company was working with Apple to bring the feature to the iPhone, noting that the implementation required more work than a simple App Store submission due to the built-in nature of the Maps application.
MacUser yesterday reported that Google has announced that it is bringing the free service to the United Kingdom on Android and continues to have plans to bring it to the iPhone and other platforms.
Google confirmed at a London press conference that it plans to bring free satnav to other smartphone platforms, including the iPhone, although it wouldn't say when.
According to PCWorld, however, Google has backpedaled on those claims and in fact seems to be distancing itself from the possibility of bringing the service to the iPhone.
"We did not say we would bring it to iPhone, we said to date we've had it on Android and that in the future it may come to other platforms but did not confirm this will be coming to iPhone at all," a Google spokesperson told PCWorld.
While users continue to wait for Google to decide whether to make its service available on the iPhone, other companies have been stepping forward in the competitive GPS navigation market. In addition to paid options from such companies as TomTom, Magellan, and Navigon, MapQuest last month began offering free basic turn-by-turn directions.