Apple Acquired Mapping Company Placebase in July
Computerworld reveals that Apple quietly acquired mapping company Placebase back in July.
Placebase is similar to Google Maps in that it is a mapping service and has the world mapped out. You can zoom in and out and it has different layers you can superimpose over your mapping data.
Placebase CEO Jaron Waldman LinkedIn profile now listed his position as part of the "Geo Team" at Apple.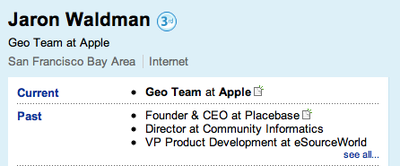 The obvious interest Apple would have in the company would be the mapping content and expertise that they are currently relying on Google for in their iPhone maps application. Placebase, however, also offered
additional functionality
that is not currently available in Google's offerings that Apple could theoretically take advantage of. This primarily involves the aggregating of different data sets onto maps.
PolicyMap
was given as an example of this aggregate functionality.