Leaked Case Design Suggests iPod Nano May Gain Smaller Square Form Factor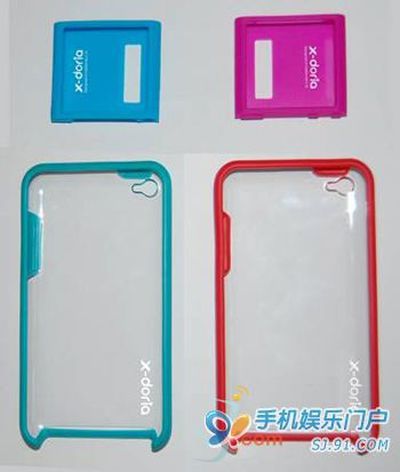 Claimed next-generation iPod nano (top) and iPod touch (bottom) cases
iLounge points
to a
Chinese site
showing cases purportedly for Apple's next-generation iPod nano and iPod touch models. The cases come from Chinese case manufacturer X-Doria.
Most interestingly, the iPod nano cases appear to be designed for a device roughly square in shape, suggesting that Apple's redesigned iPod nano could transition away from the widescreen display used in the current generation to a square touch-enabled display. The move would seem to be an odd choice, however, given that Apple specifically widened the device's display in the last revision to allow for true widescreen aspect ratios to go along with the device's integrated video camera.
The nano 6G case features an open strip on the rear - perhaps for a camera or built-in clip - as well as what appear to be volume buttons and a larger button on the top side while a Dock Connector and headphone port are along the bottom.
The redesign would also bring the iPod nano much closer in size to the iPod shuffle, and it is unclear what that device's future might be within that context.
Earlier today, analyst Shaw Wu claimed that Apple has been sourcing parts for a smaller iPod nano that would lack a traditional click wheel, and these case designs obviously seem to match that assertion.
The claimed next-generation iPod touch cases suggest little beyond that revealed in another purported case leaked earlier this month. Based on the cases in circulation, the new iPod touch is expected to gain a video camera with flash in the upper left corner of the rear of the device, as in the iPhone. The cases also suggest that the new iPod touch will retain the tapered back shell of the current design rather than moving to the flat back seen in the iPhone 4.
Neither of the claimed iPod touch cases include a cover for the front of the device, so there is no evidence regarding a front-facing camera. Several part leaks have, however, shown a small hole centered on the front panel of the device, presumably for just such a camera.