iPod shuffle
Apple's cheapest and smallest iPod.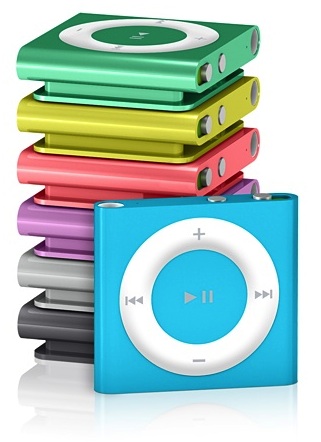 At a Glance
At $49, the clip-on 2 GB iPod shuffle is Apple's cheapest and smallest iPod model. Aside from changes to color options, the iPod shuffle has not been updated since September 2010 and it is unclear whether Apple has any plans for significant updates.
Current Specs
2 GB for $49
Eight color options including (PRODUCT) RED
Current Version

At its iPhone media event on September 10, 2013, Apple introduced a new Space Gray color option for its iPod lineup, replacing the previous black or slate option on the iPod touch, iPod nano, and iPod shuffle. The color was featured as part of the iPhone 5s introduction, but also quietly made its way into the iPod lineup.
No other changes were made to the iPods, but following the minor color change, there have been no additional updates to the iPod shuffle or the rest of the iPod lineup.
Though Apple's plans for the iPod shuffle and the rest of the iPod lineup remain unknown, an update with new color options could be in the works. Images found in the recently released iTunes 12.2 software depict an iPod shuffle in bright pink, deep blue, and light gold, three colors that are not currently offered.
In More Detail
Apple's iPod shuffle has gone through several design changes since its introduction in January 2005, with the current form factor having been introduced in September 2010. Priced at $49 and offering 2GB of storage, the only changes made to the device over the past three years have been in color options.

2013 iPod shuffle lineup (Product Red version not shown)
The September 2010 fourth-generation iPod shuffle launch included silver, blue, green, orange, and pink color options, and that set of colors remained available until September 2012 when it was replaced with an expanded set of new and tweaked colors including slate, silver, purple, pink, yellow, blue, green, and a special (PRODUCT) RED version.
September 2013 saw only the replacement of the slate color option with a new "space gray" color that was highlighted on the iPhone 5s but also quietly brought to the iPod touch, iPod nano, and iPod shuffle. But even such a minor color change for the iPod shuffle lineup suggests that Apple is not planning any additional changes in the near future.

Third-generation iPod shuffle
Color changes aside, at over three years old the iPod shuffle is one of the oldest products in Apple's product lineup, but it is unclear what Apple's plans are for its future. Apple has redesigned the iPod shuffle several times over its lifetime as it has sought to make the device as small as possible, but actually reversed course with the current fourth-generation design in making it larger than the previous model. That design had almost entirely done away with on-device controls and was not particularly well-received by customers.
On the assumption that Apple feels it has optimized the design of the iPod shuffle with the current models, the most likely changes would be to capacity and pricing, but the company has so far given no signs of interest in making those changes. With iPod sales continuing to fall and the iPod shuffle making up only a small portion of that shrinking segment, Apple may simply feel that the product is not worth a significant investment in updating its design or specs.
During Apple's fourth quarter 2014 earnings call, CEO Tim Cook referred to the iPod as a declining business. Currently, iPod sales make a up just two percent of the company's revenue.
What's Next
We don't have concrete information on when we might see a new version of the iPod shuffle, but images buried within the new iTunes 12.2 update depict the iPod touch, shuffle, and nano in three new colors: bright pink, deep blue, and light gold.

None of these colors are currently available, sparking speculation that Apple will introduce a new iPod models or new color options in the near future. There do not appear to be any external changes to the iPod shuffle and it is unclear if Apple plans to introduce internal updates, such as more storage or an improved processor.

Based on the "July 14" date seen on the Calendar app in the iPod touch images, an update could perhaps come in mid-July, on Tuesday, July 14.