iPod and AirPort Roundups: What's Next for Apple
Continuing our series of roundups summarizing the latest news and rumors about each of Apple's products, today we are publishing five new roundups covering the company's iPod and AirPort lineups. The new roundups include iPod touch, iPod nano, iPod shuffle, iPod classic, and AirPort.
Apple's iPod lineup has not seen much in the way of updates recently, with a September refresh seeing only a slight change to color offerings for the iPod touch, iPod nano, and iPod shuffle with the previous slate color option being replaced with a new space gray option carried over from iPhone 5s. The new color later made its way to the iPad Air and iPad mini as well. Given that Apple typically updates its iPods in the fall each year, new iPods are not expected until late next year.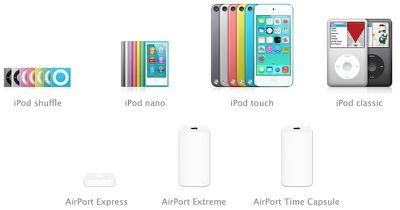 The AirPort line of Wi-Fi base stations is currently divided, with the larger AirPort Extreme and AirPort Time Capsule models having been updated in June with new designs and support for the latest 802.11ac networking standard. The AirPort Express has not been updated to support 802.11ac and was last updated in June 2012 when it received an Apple TV-like redesign.
As with our previous roundups, the goal of our iPod and AirPort roundups is to simply answer the question of "What are you expecting" for Apple's future products at any given time. That opinion evolves over time as new rumors surface, and our roundups will be updated regularly to reflect the latest rumors.
All of our roundups remain accessible through a dedicated index page showing a time-ordered list based on the last date each roundup was updated, as well as directly through the "Roundups" tab in the navigation bar on all MacRumors pages.