Full Lineup of Colors for Upcoming iPod Refresh Includes New Blue, Gold, and Pink Options
As we reported this morning, astute iPod owners with iTunes 12.2 have discovered an image that depicts the iPod touch, nano, and shuffle in new colors, suggesting an update could be in the works. A bit more digging around in iTunes 12.2 has unearthed additional iPod images, giving us a look at each of the new color options we might see should Apple be planning to release new models.
The images depict six different color options for the iPod nano, shuffle, and touch, showing each model in silver, space gray, red, bright pink, deep blue, and light gold. The latter three colors, pink, blue, and gold, are new shades that are not currently available. The space gray model may be slightly darker than the existing color, but it's difficult to determine from images alone.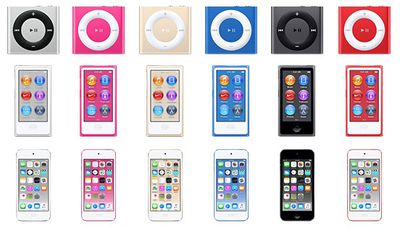 Aside from new color options, the devices appear to be largely the same, except perhaps for an external change for the iPod touch that does away with the attachment for the wrist loop. It is not clear if Apple plans to update the internals of the devices or if the company is simply going to introduce new color options, but the images make it clear that a potential update is not going to feature a major external redesign.
Apple's iPod lineup has not seen new color additions since 2013, due to a sharp decline in sales over the past several years. The last update saw Apple change the "slate" color to "space gray" in September of 2013, and no major color changes have been made since that date.
The Calendar app on the iPod touch in the images reads "Tuesday 14," leading some of our readers to speculate that Apple might plan to introduce new models on Tuesday, July 14, which is two weeks from now.