iPods in Unreleased Colors Spotted in iTunes 12.2
Following the release of iTunes 12.2 with Apple Music support yesterday, one MacRumors user has discovered graphics depicting iPods in colors not currently offered by Apple. The composite image of an iPod touch, nano, and shuffle is shown when setting up or restoring an iPod in iTunes.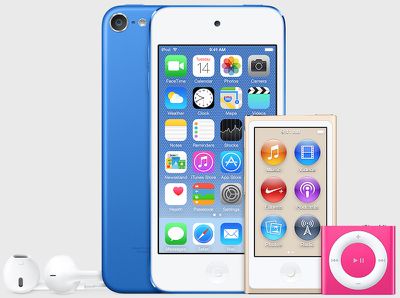 The new colors include a darker blue for the iPod touch, a new gold or beige color for the iPod nano, and a brighter pink color for the iPod shuffle.
Apple has not updated its iPod color lineup in several years, most recently shifting the previous "slate" color to "space gray" back in 2013. Apple has typically updated its iPod lineup during the month of September, although it is unclear whether these new colors are actually in the works and what their release timeframe might be.
Update: Several observers have pointed to the Calendar icon on the iPod touch screenshot showing a date of Tuesday the 14th, leading to speculation the new models could launch on Tuesday, July 14. Readers have also noticed the new image does not depict a wrist strap attachment post as seen in the lower left corner of the current models.
(Thanks, iPhone.Freak!)