Apple Constraining iPod, iPad Mini 2 and iPad Air Inventory Sent to Third-Party Retailers
Insider inventory constraint information from major retailer Target hints at some possible end of life timelines for various products like the iPod, iPad mini 2, and iPad Air, many of which may be discontinued in the near future following the launch of new products.
According to a screenshot of an internal inventory system shared by a Target employee, all models of the iPod are currently constrained by Apple ahead of a rumored update that could come as soon as tomorrow.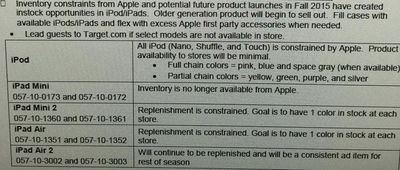 Images of unreleased iPod touches, nanos, and shuffles were first discovered hidden within iTunes 12.2, and a rumor has suggested the iPod touch could receive a processor upgrade and new color options while the nano and the shuffle might be available in new colorways.
As for the iPad mini 2 and the iPad Air, replenishment of existing stock is currently constrained, with Target aiming to have 1 color in stock at each of its stores. Dwindling in-store stock suggests Apple could be planning to discontinue the iPad mini 2 and the iPad Air following the release of new models, which is expected to happen in the fall.
The iPad mini 2 and the iPad Air may be replaced by the iPad mini 3 and the iPad Air 2 as lower-cost older-generation models following the launch of a third-generation iPad Air and a fourth-generation iPad mini. We haven't heard much on what a third-generation iPad Air might offer, but an A9 processor and Force Touch are solid guesses.
A fourth-generation iPad mini has been rumored to be in the works, with an iPad Air-style redesign that eliminates the mute switch and introduces larger speaker holes. An updated iPad mini would also likely incorporate a much-improved processor, more RAM, and possibly Force Touch.
It is not clear when Apple plans to introduce new iPad mini and iPad Air models, but Target's guess of fall 2015 is a safe bet. For the last several years, Apple has updated its iPad lineup in October or November, and that's when we're likely to see new iPads in 2015. This year's iPad update may include an all new model, the much-rumored larger-screened iPad Pro.