iPod shuffle
Apple's cheapest and smallest iPod was discontinued on July 27, 2017.
By MacRumors Staff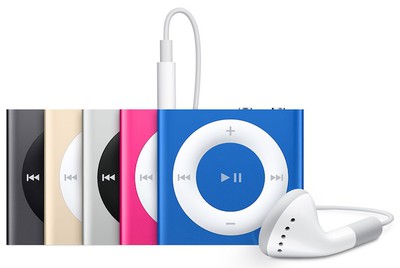 Discontinuation
On July 27, 2017, Apple removed the iPod shuffle from its website and online store, marking its discontinuation after twelve and a half years on the market in various forms. With the simultaneous discontinuation of the iPod nano, the iOS-based iPod touch is the only remaining device in the iPod family.
At the time of its discontinuation, the iPod shuffle was available in six colors in a single 2 GB capacity priced at $49.
In More Detail
Apple's iPod shuffle went through several design changes since its introduction in January 2005, with the final form factor having been introduced in September 2010. Priced at $49 and offering 2 GB of storage, the only changes made to the device over the subsequent years were in color options.

2015 iPod shuffle lineup (Product Red version not shown)
The September 2010 fourth-generation iPod shuffle launch included silver, blue, green, orange, and pink color options, and that set of colors remained available until September 2012 when it was replaced with an expanded set of new and tweaked colors including slate, silver, purple, pink, yellow, blue, green, and a special (PRODUCT) RED version.
September 2013 saw only the replacement of the slate color option with a new "space gray" color that was highlighted on the iPhone 5s but also quietly brought to the iPod touch, iPod nano, and iPod shuffle. A July 2015 update brought a new gold color and new shades of blue and pink to go along with the previous silver, space gray, and red options carried over earlier generations.