One of the newest features in iOS 10's redesigned Apple Music app is the ability to view lyrics for your favorite songs. While the ability to quickly access song lyrics to learn the lines is helpful, the new feature may get lost in the midst of Apple Music's new look. We've put together a how-to guide to show you how to view lyrics for your songs.
First, you'll need to start playing a song. Once a song is playing, click on the song's banner, just above the Apple Music menu bar at the bottom, to open the song's individual card. From here, there are two methods to view lyrics.

Method One: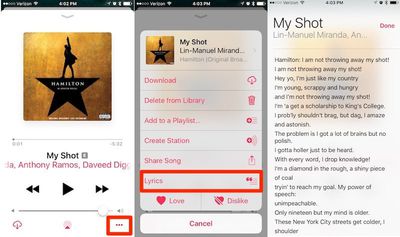 Tap the "three dots" button in the bottom right corner. This brings up a menu overlay displaying options for the song, like adding it to a playlist or creating a station.
Tap the "Lyrics" button below the "Share Song" option. Songs with available lyrics will have this option displayed, while songs without lyrics available will not.
The lyrics will pop up in a separate translucent window that slides over the song window.
Method Two:

Scroll down while in the song card.
The lyrics toggle will be displayed directly beneath the song, right above the "Up Next" feature.
Tap on "Show" to reveal the lyrics to your song.
Currently, lyrics are not available on all songs and albums, but Apple has been rapidly expanding the number of tracks with lyrics support throughout the beta testing period and coverage has become fairly broad in time for the public release.