In iOS 17 and iPadOS 17, Apple introduced Messages-like reactions to FaceTime that lighten up your video with visual effects. Rather than triggering them with words, they are triggered using physical hand gestures. For that reason, it's easy to trigger them unintentionally. Keep reading to learn how to turn them off.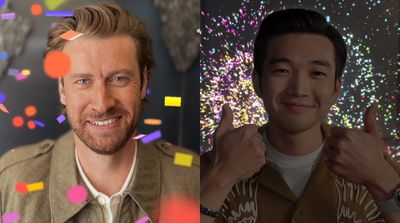 When you're on a ‌FaceTime‌ video call on an iPhone or iPad, it's possible to trigger on-screen effects like hearts, balloons, confetti, fireworks, and more, with the effects flooding the display over the ‌‌FaceTime‌‌ window.
‌FaceTime‌ reaction effects are great fun when chatting with friends and family, but there may be certain occasions when you don't want to be accidentally triggering reactions, such as when you're on a work call, or during a virtual appointment with your therapist. Fortunately, you can disable them manually by following these steps.
Open ‌FaceTime‌ on your ‌iPhone‌ or ‌iPad‌.
Swipe down from the top-right corner of the screen to invoke Control Center (swipe up from the bottom if you're on a device with Touch ID).
Tap the Effects button in the top-left corner.
Tap the Reactions button so that it is no longer illuminated.
Swipe up twice to return to ‌FaceTime‌.

Disabling FaceTime Reactions on Mac
FaceTime‌ reactions work just the same in macOS Sonoma, but the video effects options have moved from the Control Center. Instead, they have a new home in a dedicated green ‌‌FaceTime‌‌ menu bar dropdown, which also includes a mini webcam view and clickable buttons to manually trigger Reactions.


To disable reactions on your Mac, simply click the Reactions button in the ‌FaceTime‌ menu bar dropdown so that it is no longer illuminated.