Screen Time
By MacRumors Staff
Screen Time How Tos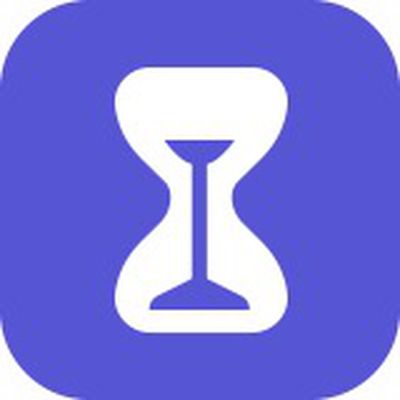 In iOS 13.3, Apple added new Communication Limits to its Screen Time options, which let parents control who their children are able to contact. If you're not familiar with Apple's Screen Time functions, they enable users to keep track of their device usage and place self-imposed limits on the time they spend using their iPhone or iPad. Screen Time also serves as a parental control system for...
Screen Time Articles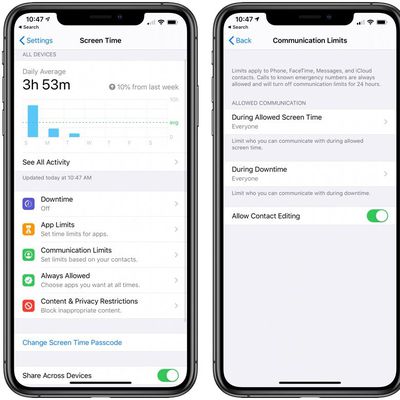 Apple on Tuesday released iOS 13.3, a new update that includes Communication Limits for Screen Time, designed to allow parents to limit who can contact their children and who children can contact. As it turns out, though, there's a bug in the feature that's allowing children to communicate with anyone who texts them. As outlined by CNBC, Communication Limits is designed to prevent...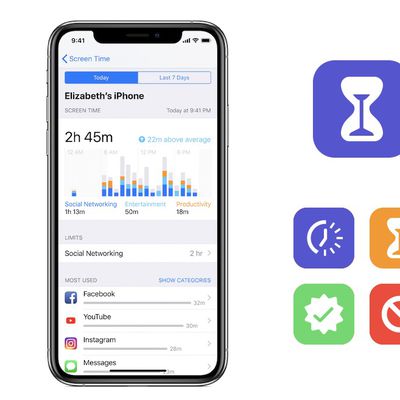 Apple is currently engaged in a cat-and-mouse game with persistent kids looking to circumvent Screen Time restrictions, but the company has been receiving some criticism for not moving quickly enough to lock down some of the loopholes, reports The Washington Post. A few of the loopholes and ways for parents to shut them down are documented on the site Protect Young Eyes, while these and...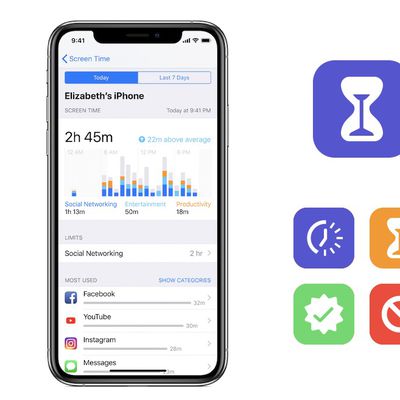 As one of many updates to its App Store Review Guidelines this week, Apple has indicated that parental control app developers are again permitted to use Mobile Device Management (MDM) technology in their apps, so long as they do not sell, use, or disclose any data to third parties for any purpose. An excerpt from the newly added Guideline 5.5:You must make a clear declaration of what user...

Over a dozen parental control app developers have come together with a shared message for Apple: it's "time to put kids first." Together, they have launched a new website called Screen Time API that urges Apple to release a public API granting developers access to the same functionalities that iOS 12's Screen Time feature uses. The developers have even proposed their own API, complete with...

Last weekend, The New York Times reported that Apple has removed or restricted many of the most popular screen time and parental control apps on the App Store since launching its own Screen Time feature in iOS 12 last year, raising concerns over potentially anticompetitive behavior. Apple was quick to respond. In both an email to a concerned customer and a press release, Apple indicated that ...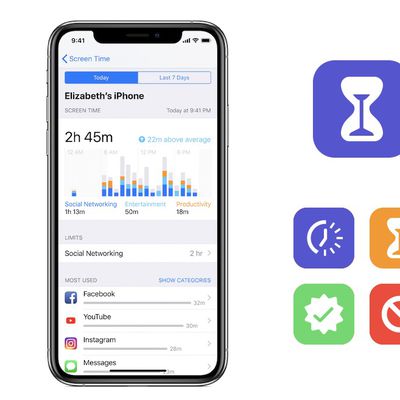 Following an email from Phil Schiller to a MacRumors reader yesterday addressing a report from The New York Times on Apple's removal of a number of App Store apps focused on screen time monitoring and parental controls, Apple has issued a public statement sharing additional perspective on the situation. The statement, entitled "The facts about parental control apps," is very similar in its...

Earlier today, a report from The New York Times highlighted Apple's removal of a number of App Store apps that had allowed users to monitor usage of their devices or those used by their children. The report suggests that Apple's move to pull the apps is related to having rolled out its own Screen Time feature in iOS 12 that competes in some ways with these apps, raising concerns over...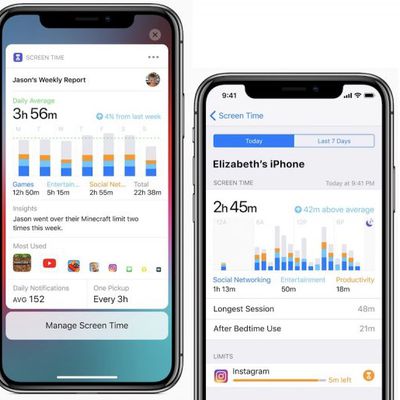 Greg Joswiak, Apple's VP of iOS, iPad, and iPhone Product Marketing, recently sat down with Arianna Huffington on the Thrive Global Podcast to discuss the new Screen Time feature that Apple implemented for the iPhone 5s and later in iOS 12. According to Joswiak, information is the "cornerstone" of what Apple is doing with Screen Time. The company's goal is to provide people with information...

The iOS 12 update introduces a comprehensive set of built-in features designed to help you focus, limit distraction, monitor your iOS device usage, and get a better understanding on how you're using your time throughout the day. These new features are housed in the Screen Time section of the Settings app, which we decided to take a closer look at to give MacRumors readers eagerly awaiting the...

Apple's iOS 12 update will greatly "reduce interruptions" and help users manage their digital device use, which has been an increasingly focused topic of conversation in recent months. For its implementation, Apple at WWDC announced a new section of the Settings app called "Screen Time" that breaks down how much time you spend on your iPhone or iPad each day and week. Screen Time is found under...