Parental Control App Developers Urge Apple to Make Screen Time APIs Available for Third-Party Apps
Last weekend, The New York Times reported that Apple has removed or restricted many of the most popular screen time and parental control apps on the App Store since launching its own Screen Time feature in iOS 12 last year, raising concerns over potentially anticompetitive behavior.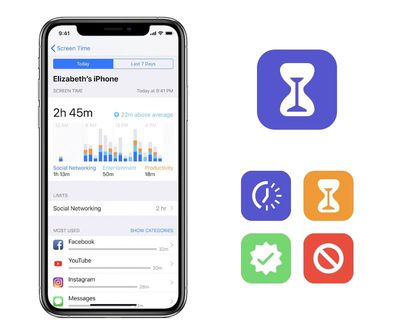 Apple was quick to respond. In both an email to a concerned customer and a press release, Apple indicated that it became aware over the last year that some parental control apps were using a technology called Mobile Device Management or "MDM" that puts users' privacy and security at risk.
MDM technology is intended for enterprise users to manage their company-owned devices, and Apple says the use of MDM by consumer-focused apps carries privacy and security concerns that resulted in Apple addressing the situation in its ‌App Store‌ review guidelines in mid-2017.
"Contrary to what The New York Times reported over the weekend, this isn't a matter of competition," wrote Apple. "It's a matter of security."
Apple added that when it found out about these ‌App Store‌ guideline violations, it communicated with the necessary developers, giving them 30 days to submit an updated app to avoid being removed from the ‌App Store‌.
In the days since, a handful of developers behind parental control apps including Qustodio, Kidslox, OurPact, and Mobicip have responded to Apple's press release with open letters, calling for the company to make the APIs behind its Screen Time feature available to the public for use in third-party apps.
Eduardo Cru, co-founder of Qustodio:
If safety is such a great concern to Apple, why not share the APIs used in Apple's own Screen Time competitive service and instantly make the environment safer and open for everyone?
Viktor Yevpak, co-founder of Kidslox:
Ultimately, making the "Screen Time" API's public is the solution to this issue which would truly prove Apple's commitment to the safety and welfare of children. This would allow 3rd party developers like us to create effective products that give users genuine choices, while also complying with Apple's self-set standards.
If Apple truly believes that parents should have tools to manage their children's device usage, and are committed to providing a competitive, innovative app ecosystem, then they will also provide open API's for developers to utilize. Now, more than ever, the focus should be on building better and more diverse solutions for families to choose from.
Suren Ramasubbu, co-founder of Mobicip:
Knowing that parental controls apps using MDM have been around for years, wouldn't it have been a better option for Apple to support an officially supported API before pulling the plug?
Tony Fadell, a senior executive at Apple in the 2000s, agrees that Apple should create and provide developers with APIs for Screen Time.
2/ Apple's Screen Time still has many holes & deficiencies. Their v1.0 solution was a rush job & it's very non-intuitive to use. Apple should be building true APIs for Screen Time so the "privacy" concerns are taken into account instead of limiting users App Store choices. https://t.co/rGRwB6HT4r — Tony Fadell (@tfadell) April 28, 2019
The developers also refute parts of Apple's press release, with OurPact claiming that its parental control app for children was removed from the ‌App Store‌ on October 6, 2018 without any prior communication from Apple, just three weeks after iOS 12 was publicly released with Screen Time.
Three out of four of the developers add that Apple was slow to respond and did not provide any resolution for the sudden guideline violations.
While Apple is firm in stating that competition did not play a role in its crackdown on these apps, the timing is certainly curious. Many of the removals occurred shortly after Apple rolled out its Screen Time feature in iOS 12 last September, despite several of these apps having used MDM for a number of years.
At face value, public APIs for Screen Time does appear like a viable solution for both the privacy and security of users and ensuring a competitive landscape on the ‌App Store‌. Whether that happens remains to be seen.