Apple Acknowledges Screen Time Bug, Promises Further Improvements
Apple has acknowledged a bug with its parental controls feature Screen Time on the iPhone and iPad, and promises it will take additional steps to remedy the situation, according to a report this weekend from The Wall Street Journal.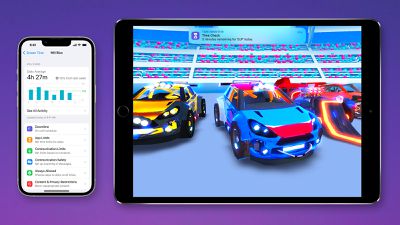 Screen Time provides parents with settings to remotely manage a child's device, allowing them to restrict device usage to certain times, set time limits for apps, and block inappropriate content. However, some parents have complained that Screen Time settings sometimes reset or fail to sync across all devices within a Family Sharing group.
"We are aware that some users may be experiencing an issue where Screen Time settings are unexpectedly reset," an Apple spokesperson said, in a statement shared with The Wall Street Journal. "We take these reports very seriously and we have been, and will continue, making updates to improve the situation."
Apple already fixed an issue with Screen Time settings failing to stick with iOS 16.5, released in May, but the report claims that some parents have continued to experience the issue on devices updated to iOS 16.6 and the iOS 17 public beta. It's unclear when Apple plans to roll out additional improvements to Screen Time.
Screen Time launched in 2018 as part of iOS 12, providing parents with a built-in option for the type of controls that previously required third-party apps.