After the 2018 MacBook Air launched, complaints began surfacing about the machine's 720p FaceTime HD camera, with users suggesting it was noticeably worse than the ‌FaceTime‌ cameras on other MacBook machines, including the 2018 MacBook Pro and the previous-generation ‌MacBook Air‌.
All 720p cameras are rather poor in quality compared to the ‌FaceTime‌ cameras that we get in iPhones and iPads, so we initially believed these complaints were coming from people who just expected more from a 2018 machine.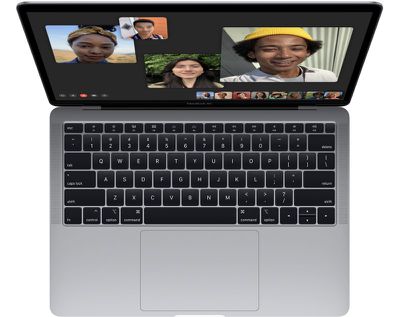 Given the sheer volume of complaints, though, MacRumors decided to do some investigating and found that the 720p ‌FaceTime‌ HD camera in the 2018 ‌MacBook Air‌ does indeed appear to be worse than the ‌FaceTime‌ HD camera in some other models, specifically the 2015 ‌MacBook Air‌.

2018 MacBook Air vs. older MacBook Air
Compared to the 2015 ‌MacBook Air‌, the ‌FaceTime‌ HD camera in the 2018 ‌MacBook Air‌ is noticeably worse. It's darker, grainier, and lower in quality. To be clear, neither camera is good because we're talking about 720p video here, but there is a visible difference in side by side photos.

2018 ‌MacBook Air‌ on left, 2015 ‌MacBook Air‌ on right
Just got my new Macbook Air 2018 edition. Sadly I did not research enough and was badly surprised by the camera problems. For comparison Macbook Air 2013 vs Macbook Air 2018 photos in same indoor light. I really hope this is not the expected quality.@AppleSupport @MacRumors pic.twitter.com/hYsacjcogk — Boris Nikolai Konrad (@borisnkonrad) January 10, 2019
2018 MacBook Air vs. 2018 MacBook Pro
The 2018 ‌MacBook Air‌'s ‌FaceTime‌ HD camera is actually pretty similar to the ‌FaceTime‌ HD camera in the 2018 MacBook Pro. There's little difference that we saw in comparison images, suggesting that the two machines are using similar cameras, neither of which is particularly good.

720p camera quality
The ‌FaceTime‌ HD camera that Apple is using in the 2018 ‌MacBook Air‌ is far worse than the cameras on modern iPhones and iPads, and quality hasn't been bumped up for years, which is the real problem.
‌FaceTime‌ streaming is limited to 720p, but we do use our front-facing cameras for other purposes, and the poor quality of the cameras Apple uses in its notebooks is a stark contrast to the sharp 7-megapixel front-facing camera in the iPhone 8, 8 Plus, X, XR, XS, and XS Max.
Even bumping that camera up to 1080p would make a world of difference when it comes to quality, as evidenced in photos captured using the 1080p ‌FaceTime‌ HD camera in the iMac Pro.


The 720p camera in the 2018 ‌MacBook Air‌ does suck, but so do the ‌FaceTime‌ HD cameras Apple uses across the Mac notebook lineup.

Which models are affected?
All ‌MacBook Air‌ models appear to have the same ‌FaceTime‌ HD camera and thus all models are impacted. The quality of the camera is less bothersome to some users than others, but there have been a large volume of complaints.

What does Apple have to say about the issue?
Nothing. Apple hasn't yet commented on the complaints over the 2018 ‌MacBook Air‌'s camera.

What can I do if I'm unsatisfied with my camera?
If you're unhappy with the ‌FaceTime‌ HD camera in the 2018 ‌MacBook Air‌, the only recourse seems to be to return it. There's nothing that can be done to improve the camera at this point in time, though buying an external webcam is also a possible solution.
There is a possibility that there's a software issue that could be fixed via an over-the-air update, based on the testing of some users who have claimed to see better quality video in some apps compared to others, but the results have been inconsistent and it's unclear if hardware or software is to blame.

Is it still worth buying a 2018 MacBook Air?
If you're buying a notebook for its front-facing camera, the 2018 ‌MacBook Air‌ isn't a great choice, nor is any other Mac. The same is true if the front-facing camera is an important feature to you.
If you just use ‌FaceTime‌ occasionally, have other devices to fall back on, and don't need to rely on the front-facing camera, the ‌MacBook Air‌ is a capable machine with a Retina display, T2 chip, Touch ID, support for up to 16GB RAM, a third-generation butterfly keyboard, a Force Touch trackpad, and Thunderbolt 3 support.