iOS 17 AirDrop Features: NameDrop, SharePlay, and Proximity Sharing
Apple in iOS 17 is improving the AirDrop sharing feature that is designed to allow two Apple devices to share content with one another quickly and easily. Proximity sharing has been improved, it's easier to exchange content, and more.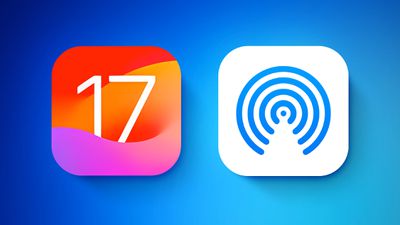 This guide highlights all of the new AirDrop features you'll find in ‌iOS 17‌.
NameDrop
NameDrop is an AirDrop feature that lets you exchange contact information with someone by touching two iPhones together. Bringing two devices together will automatically pop up a contact sharing interface.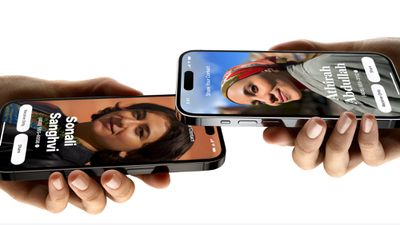 Tapping on the popup shows a person's contact information and their Contact Poster, with options to "Receive Only" or share your own contact information in response. You can choose the phone number and email address that you want to share with someone on the other end, and if someone is already in your Contacts app, it updates contact information.
Note that NameDrop works between two iPhones running ‌iOS 17‌ and later this year, it will work between an ‌iOS 17‌
iPhone
and an Apple Watch running
watchOS 10
.
Proximity Sharing
If you need to share a file or a photo with someone who is right next to you, there's a new proximity sharing feature available for AirDrop.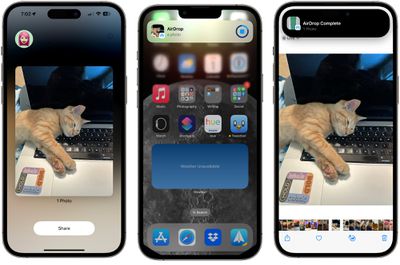 To initiate a transfer, choose the photo or file that you want to share with someone. From there, bring your unlocked ‌iPhone‌ next to the person's unlocked ‌iPhone‌, and it will pop up a share interface without you having to tap on the Share Sheet.
You can tap on the Share option that pops up to send the photo or file to the person next to you. It will be received on the other device automatically, with permission granted through proximity.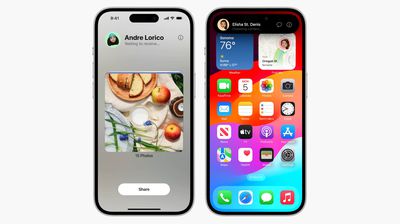 Note that sharing files this way works even if AirDrop receiving is turned off or limited to contacts, so it is a way to share a file with someone without having to change your overall AirDrop settings. AirDrop normally works with someone in the same room, but the proximity sharing feature requires the two iPhones to be close to touching.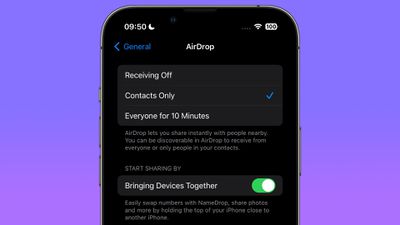 Sharing through proximity can be enabled or disabled by going to Settings > General > AirDrop and toggling "Bringing Devices Together" on or off.
Transfers Over the Internet
Apple plans to allow AirDrop transfers that have been initiated to finish over the internet in ‌iOS 17‌. That means if you start sharing a bunch of files or photos with someone, you won't need to stay nearby for the transfer to complete.
AirDrop is a fairly fast file sharing method, but if you're sharing large videos, it can be frustrating to have to stay close by to someone for a transfer to finish. File transfers over the internet requires ‌iOS 17‌ and for both participants to be signed into iCloud, and this is a feature that will be coming in an update to ‌iOS 17‌.
SharePlay
If you want to listen to music or watch a movie with someone nearby, there's a new SharePlay feature that allows SharePlay to be initiated through proximity much like AirDrop.


Starting SharePlay content and then bringing your ‌iPhone‌ next to another ‌iPhone‌ will initiate a SharePlay session through the Messages app. It's the same SharePlay function that can be accessed through the Share Sheet, but the proximity method is a quicker way to begin a SharePlay session.
Proximity SharePlay is useful for situations like flights where each person may want to use their own device but share the same content.


Developers can build support for SharePlay over AirDrop into their apps, but as with standard SharePlay, both people will need to have the app installed and have access to the content.
Read More
Additional details on the new features in the ‌iOS 17‌ update can be found in our iOS 17 roundup.