Apple Watch Pre-Orders
By MacRumors Staff
Apple Watch Pre-Orders Articles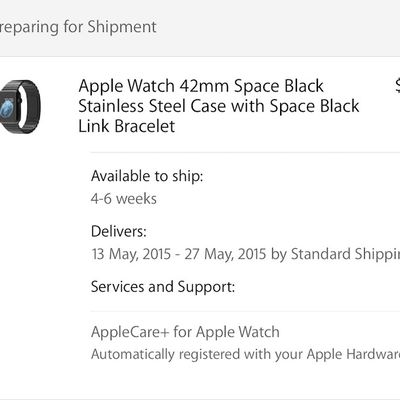 Nearly five weeks after Apple Watch pre-orders became available on April 10, the first stainless steel Apple Watch orders with Space Black Link Bracelets, Leather Loops and Modern Buckles are now being prepared to ship. A growing number of users tracking their Apple Watch orders within the MacRumors discussion forums confirmed the shipping status changes within the past twelve hours. Apple ...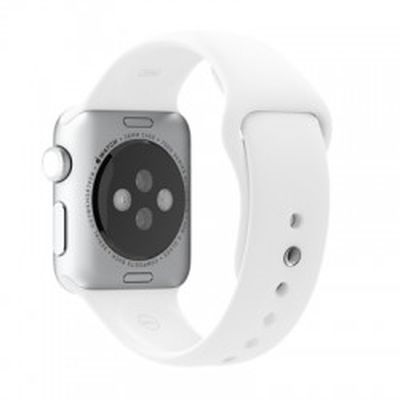 Many customers who pre-ordered the Apple Watch over the past two weeks and received an extended shipping estimate of 4-6 weeks or later should receive the wrist-worn device earlier than expected. Apple continues to update several pre-orders with improved delivery estimates, with some Apple Watch orders initially slated for June delivery now shipping as early as this week. A growing number of...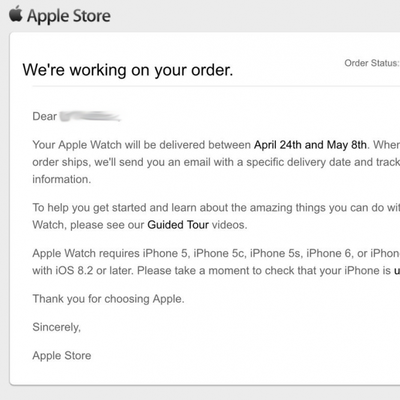 Apple on Wednesday emailed select customers that pre-ordered the Apple Watch to reassure them that the company is working on their orders and will provide them with specific delivery dates and tracking information when available. Apple appears to have sent the email to customers with Apple Watch pre-orders that have yet to be prepared for shipment ahead of Friday's launch. Apple Watch...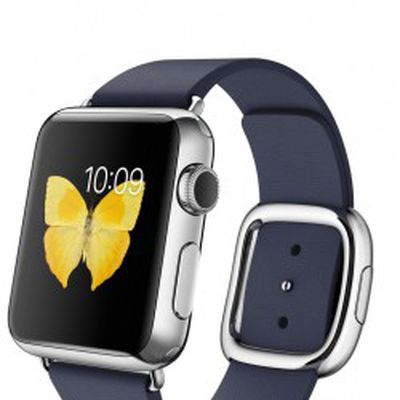 Earlier today, a number of Apple Watch pre-orders with delivery estimates of 4-6 weeks or later '">started changin from "Processing Items" to "Preparing for Shipment" on the Apple Online Store. Apple also began charging some credit and debit cards of customers with orders showing extended shipping times. Apple has since confirmed to John Paczkowski at BuzzFeed that many customers will receive...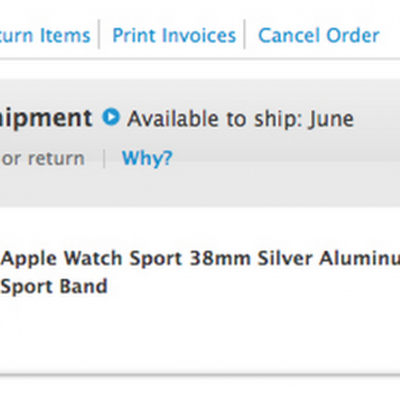 With less than two days until the Apple Watch launches in the United States and eight other countries, customers who pre-ordered the Apple Watch and received shipping estimates of 4-6 weeks or later are beginning to see earlier than expected movement on their orders placed through the Apple Online Store. A growing number of people have turned to the MacRumors discussion forums and tipped us...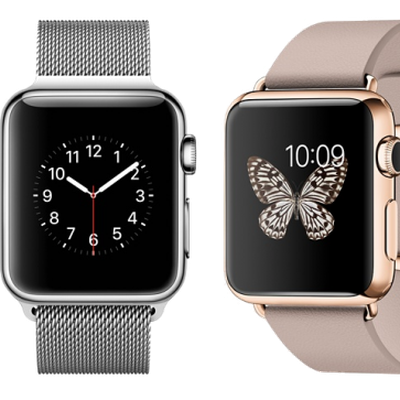 Apple will begin accepting pre-orders for the Apple Watch in Italy on May 8, according to Italian website iSpazio. The report, citing an internal source, claims that Apple Stores in the country have already received Apple Watch advertising materials and display tables for the wrist-worn device that will be setup on May 7 to prepare for the launch. While not mentioned directly in the report, iSp...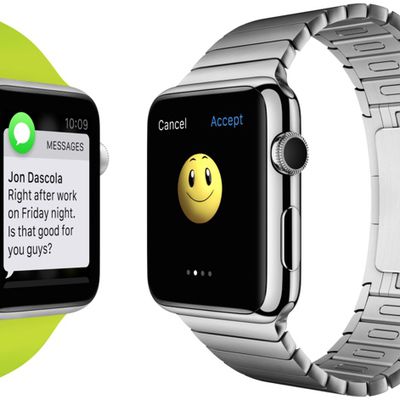 A few MacRumors readers have taken to the forums to confirm that Apple has begun charging many users based out of the UK, Germany, and France who got in an Apple Watch pre-order early on April 10. The charges in the United Kingdom, Germany, and France come after customers in the United States yesterday began first experiencing charges taken from their debit or credit cards, followed by a chan...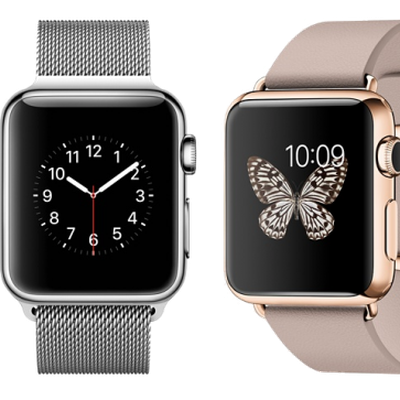 Apple Watch pre-orders are being sent to centralized distribution points across the United States as couriers prepare the shipments to be delivered ahead of the wrist-worn device's launch on April 24, according to a source for MacRumors that has provided accurate information in the past. Apple retail chief Angela Ahrendts confirmed earlier this month that Apple Watch pre-order deliveries will...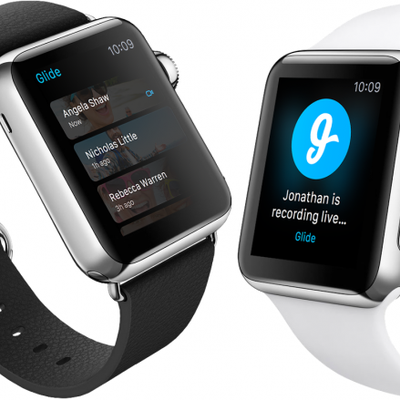 KGI Securities analyst Ming-Chi Kuo, who has a respectable track record at reporting on Apple, has issued a new note to investors estimating that global pre-orders for Apple Watch has exceeded 2.3 million units. Previously, a study from Slice Intelligence estimated that there were 1 million Apple Watch pre-orders in the United States. We estimate production of Apple Watch around 2.3mn units...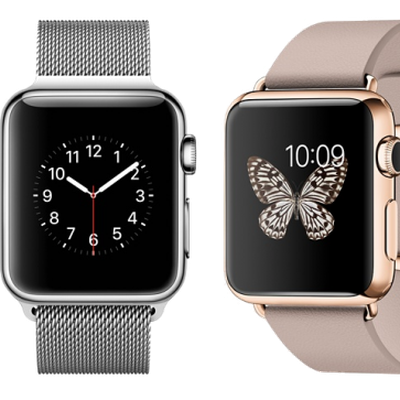 Apple Watch received an estimated 957,000 pre-orders in the United States on April 10, the day the wrist-worn device became available for purchase, according to Slice Intelligence (via Quartz). The digital commerce tracking firm claims that nearly two-thirds (62%) of customers purchased the Apple Watch Sport, with the 42mm Space Gray case being the most popular model sold on the first day....