First Wave of Apple Watches Begin Shipping Ahead of Friday's Launch
Apple Watch pre-orders are being sent to centralized distribution points across the United States as couriers prepare the shipments to be delivered ahead of the wrist-worn device's launch on April 24, according to a source for MacRumors that has provided accurate information in the past.
Apple retail chief Angela Ahrendts confirmed earlier this month that Apple Watch pre-order deliveries will begin on April 24 as scheduled, although many customers have received shipping estimates of 4-6 weeks or later and it remains unknown how many Apple Watch pre-orders will be delivered on day one.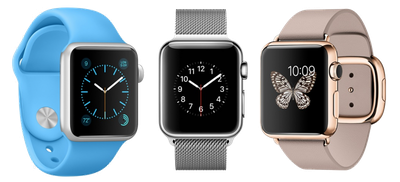 iPhone 6 and iPhone 6 Plus pre-orders began switching from "Processing Items" to "Preparing for Shipment" on the Apple Online Store for several customers on the Monday prior to Friday delivery, so customers that pre-ordered the Apple Watch early should see their order status change soon. Due to limited stock and the wide 4/24—5/8 delivery estimate for launch day pre-orders, however, there is a possibility that pre-order statuses may take longer to change.
To date, we've not seen any reports of pre-orders changing or credit cards being charged, but our source assures us bulk shipments have begun, so we should see movement on individual order statuses very soon. In the meantime, Apple has begun charging credit cards and preparing to ship Apple Watch accessories such as the charging cable and AppleCare+ Protection Plans.
Apple Watch pre-orders were available on April 10 at 12:01 AM Pacific through the Apple Online Store in the United States, Australia, Canada, China, France, Germany, Hong Kong, Japan and United Kingdom, and sold out completely in less than six hours. The company also began taking Apple Watch try-on appointments the same day at Apple retail stores and select fashion boutiques such as Selfridges in London, Isetan in Tokyo and Galeries Lafayette in Paris.
Update: In line with this report, Apple is beginning to charge credit cards and Apple Watch pre-order statuses are changing to "Prepare for Shipment."