Apple Watch Received Estimated 1 Million Pre-Orders in U.S. on April 10
Apple Watch received an estimated 957,000 pre-orders in the United States on April 10, the day the wrist-worn device became available for purchase, according to Slice Intelligence (via Quartz). The digital commerce tracking firm claims that nearly two-thirds (62%) of customers purchased the Apple Watch Sport, with the 42mm Space Gray case being the most popular model sold on the first day.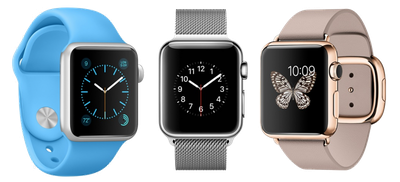 Slice Intelligence's sales projection is based on e-receipt data from 9,080 online shoppers that opted-in to have their inboxes tracked for email receipts. The report finds that 71% of Apple Watch pre-orders on April 10 were for the larger 42mm case, with 32% of aluminum Sport customers purchasing the smaller 38mm version compared to 24% of stainless steel Apple Watch buyers.
"Slice Intelligence estimates that 957,000 people in the U.S. pre-ordered an Apple Watch on Friday, the first day the watch was available for sale. According to ereceipt data from 9,080 online shoppers, each Apple Watch buyer ordered an average of 1.3 watches, spending $503.83 per watch. Those ordering an Apple Watch Sport spent $382.83 per watch and those ordering the Apple Watch spent $707.04."
The report adds that 40% of pre-orders were for the Apple Watch Sport with space gray aluminum, followed by the silver stainless steel Apple Watch at 34%, silver aluminum Apple Watch Sport at 23% and space black stainless steel Apple Watch at 3%. Apple Watch Edition sales were not disclosed, with Quartz claiming that the expensive 18-karat gold model did not represent enough pre-orders to be included in the report.


Slice Intelligence also revealed that 28% of Apple Watch pre-orders included a black Sport band, making it the most popular option among customers on April 10. The steel Milanese Loop trailed in second at 25%, while the Link Bracelet (14%), black Classic Buckle (12%) and white Sport band (8%) rounded off the top five. The next seven most popular bands were split between different colors of the Leather Loop and Modern Buckle.
The shopping firm did not provide Apple Watch pre-order data for the other eight countries where the wrist-worn device became available Friday, including Canada, Australia, United Kingdom, Germany, France, Japan, China and Hong Kong, and it is likely that sales numbers will vary greatly in each of those regions. In China, for example, the Apple Watch Edition is predicted to sell considerably better than in most other countries.
Saw the estimates of 1M Apple Watch pre-orders in my inbox. Won't be surprised by an official Apple statement tomorrow saying 2M. — Kevin C. Tofel (@KevinCTofel) April 13, 2015
There are a number of variables to consider when interpreting these Apple Watch pre-order estimates, including that data was limited to the United States and likely extrapolated based on a relatively small pool of consumers. Apple has not provided official sales figures for the Apple Watch, nor did it provide comment on the accuracy of this data, so the exact number of pre-orders Apple received remains to be seen.