Apple Watch Pre-Orders in Italy and Other Second Wave Countries Could Begin May 8
Apple will begin accepting pre-orders for the Apple Watch in Italy on May 8, according to Italian website iSpazio. The report, citing an internal source, claims that Apple Stores in the country have already received Apple Watch advertising materials and display tables for the wrist-worn device that will be setup on May 7 to prepare for the launch.
While not mentioned directly in the report, iSpazio administrator Fabiano Confuorto told MacRumors that Apple Watch pre-orders in Spain and "a lot of other" second wave launch countries will also begin on May 8. Confuorto did not specify which other countries, but we will update this article if additional regions are confirmed.
The sales process will reportedly be identical to the United States and other first wave countries, with Apple Watch pre-orders taken exclusively online at launch for delivery to home and, after the pre-order window ends, in-store pickup. Presumably, try-on appointments should also be available on May 8 in the second wave launch countries.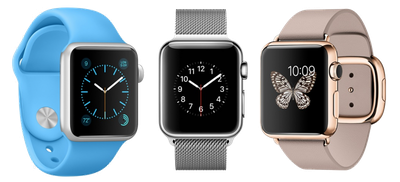 Second wave launch countries for the iPhone 6 and iPhone 6 Plus last year included Austria, Belgium, Denmark, Finland, Ireland, Isle of Man, Italy, Liechtenstein, Luxembourg, Netherlands, New Zealand, Norway, Portugal, Qatar, Russia, Saudi Arabia, Spain, Sweden, Switzerland, Taiwan, Turkey and United Arab Emirates. Shipping times for the pre-orders could be 4-6 weeks or later in those countries based on current estimates on the Apple Online Store in the United States.
Apple Watch pre-orders became available on April 10 at 12:01 AM Pacific through the Apple Online Store in the United States, Australia, Canada, China, France, Germany, Hong Kong, Japan and United Kingdom, and sold out completely in less than six hours. The company also began taking Apple Watch try-on appointments the same day at Apple retail stores and select fashion boutiques such as Selfridges in London, Isetan in Tokyo and Galeries Lafayette in Paris.
Update: According to 9to5Mac, Apple currently has no plans to start taking second-wave pre-orders on May 8.