First Wave of Space Black, Leather Loop and Modern Buckle Apple Watch Orders Now Preparing to Ship [Updated]
Nearly five weeks after Apple Watch pre-orders became available on April 10, the first stainless steel Apple Watch orders with Space Black Link Bracelets, Leather Loops and Modern Buckles are now being prepared to ship. A growing number of users tracking their Apple Watch orders within the MacRumors discussion forums confirmed the shipping status changes within the past twelve hours.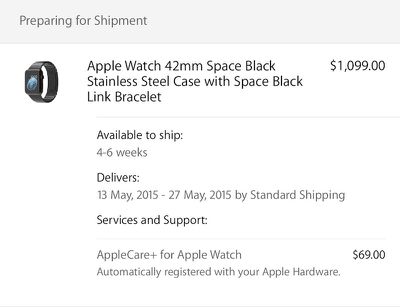 Apple Watch with Space Black Link Bracelet preparing to ship in U.S.
The stainless steel Apple Watch with Space Black Link Bracelet, Leather Loop and Modern Buckle were the last three models of the wrist-worn device that had yet to see movement, remaining in the Processing stage on the Apple Online Store until late Tuesday. Now, some orders have been updated to Preparing for Shipment in the United States, Canada, United Kingdom and likely other first wave launch countries.

Apple Watch with Leather Loop preparing to ship in Canada
During the Apple Watch pre-order window, many models were listed with 4-6 weeks shipping estimates, or May 13 to May 27. With today marking the start of that timeframe, it appears that Apple is on schedule to begin shipping these delayed models to customers for delivery as soon as today. Many customers have received credit or debit card charges for their orders, indicating that shipments should begin imminently.
Most 38mm and 42mm Apple Watch models now ship in 3-5 weeks or July respectively for new orders.
Update: Orders are now actually shipping, with delivery set for as early as tomorrow.