AirPods Max vs. Sony WH-1000XM4 and Bose Noise Cancelling Headphones 700
AirPods Max, Apple's first over-ear headphones, seem to be positioned as direct rivals to the popular Sony WH-1000XM4 headphones and Bose Noise Cancelling Headphones 700.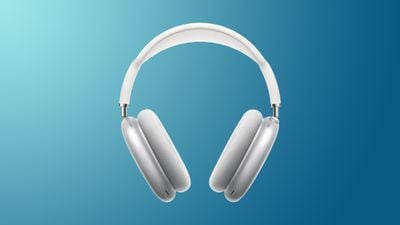 When announcing AirPods Max, Apple boasted that the headphones bring "the magic of AirPods to an over-ear design with high-fidelity sound." With a custom acoustic design, dual H1 chips, and advanced software to power computational audio with Adaptive EQ, Active Noise Cancellation, Transparency mode, and Spatial Audio, AirPods Max are a compelling new fully-featured over-ear headphones option.
However, with a $549 price tag, ‌AirPods Max‌ are much more expensive than their direct competitors. The Sony WH-1000XM4 headphones and Bose Noise Cancelling Headphones 700 cost $349 and $379 respectively, rendering ‌AirPods Max‌ at a significantly higher price point.
As these pairs of headphones share a number of key features, especially Active Noise Cancellation, it may not be immediately obvious which model is best for you or why ‌AirPods Max‌ have a higher price tag. Our guide helps to answer the question of how to decide which of these over-ear headphones is best for you.
Comparing the AirPods Max, Sony WH-1000XM4, and Bose Noise Cancelling Headphones 700
In spite of their much higher price, ‌AirPods Max‌ share a number of important features with these leading over-ear headphones, such as Active Noise Cancellation and Bluetooth 5.0.
Similarities
Active Noise Cancellation
Dedicated Active Noise Cancellation on/off button
Ambient Sound Mode or Transparency
Bluetooth 5.0
Wired listening capability
Carrying case included
Though the headphones share some key features, the three different models have more in contrast than they have in common.
Differences
AirPods Max
40mm Apple-designed drivers
An Apple H1 headphone chip in each earcup
Digital Crown for physical controls
Adaptive EQ
Spatial audio with dynamic head tracking
Eight microphones for Active Noise Cancellation
Three microphones for voice pickup (two shared with ANC and one additional microphone)
20-hour battery life
Lightning port
13.6 ounces (384.8 grams)
Silver, Black, Sky Blue, Pink, and Green color options
Sony WH-1000XM4
40mm dome drivers
HD Noise Cancelling Processor QN1
Touch-sensor controls
DSEE Extreme Digital Sound Enhancement Engine and manual EQ via app
360 Reality Audio
NFC
Two microphones for Active Noise Cancelling
Five microphones for Voice Pickup
30-hour battery life
USB-C port
3.5mm audio input jack
8.96 ounces (254 grams)
Silver and Black color options
Bose Noise Cancelling Headphones 700
Bose drivers
Touch-sensor controls
Automatic EQ with manual control via app
Six microphones for Active Noise Cancelling
Four microphones for Voice Pickup (two shared with ANC)
20-hour battery life
USB-C port
2.5mm audio input jack
8.82 ounces (250 grams)
Black, Luxe Silver, and Triple Midnight color options
Read on for a closer look at each of these aspects, and see what exactly the three over-ear headphones have to offer.
Design, Materials, and Colors
‌AirPods Max‌ have a striking retro-style design that generously uses a breathable knit mesh, aluminum, and stainless steel. The headband canopy is designed to distribute weight evenly and reduce on-head pressure. The stainless steel headband frame provides strength and flexibility for a wide variety of head shapes and sizes. Telescoping headband arms smoothly extend and stay in place to maintain the desired fit.
Each ear cup attaches to the headband through a mechanism that balances and distributes ear cup pressure, and allows it to independently pivot and rotate to fit the contours of a user's head. Each ear cushion uses acoustically engineered memory foam to create an effective seal to deliver immersive sound. ‌AirPods Max‌ are available in Silver, Black, Sky Blue, Pink, and Green.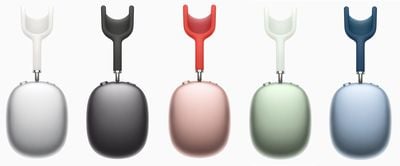 Like ‌AirPods Max‌, Bose makes use of stainless steel for the Headphones 700. A single streamlined steel headband extends over the entire headset, with an underside of soft silicone foam for comfort. The ear cups slide up and down the steel headband to adjust the fit. The earcups tilt at 15 degrees to mirror the shape of the head, and the ear cushions are made from plush protein leather. The Bose Headphones 700 are available in Black, Luxe Silver, and Triple Midnight.

The Sony WH-1000XM4 headphones have the most conventional design out of the three, with a high-quality matte plastic finish. Sony says that the WH-1000XM4's ear cups use super-soft, pressure-relieving leather earpads with foamed urethane to evenly distribute pressure and increase ear to pad contact for a stable fit. The WH-1000XM4 headphones are available in Silver and Black.

When it comes to design, everyone will have their own personal preferences. The Headphones 700 have a much more unusual form factor than ‌AirPods Max‌ or the WH-1000XM4 headphones, which may not be to everyone's taste. ‌AirPods Max‌'s premium design and plentiful selection of colors may be more attractive to you, or perhaps the more discreet and conventional design of the WH-1000XM4 headphones is more suitable.
The fabric ear cups of ‌AirPods Max‌ may be more breathable for long listening sessions, but the soft-touch leathers used by Bose and Sony may be more soft and comfortable. Individual experience with each of the ear cups will vary, but each will likely afford a good fit and isolation from ambient noise.
However, it should be noted that ‌AirPods Max‌ are much heavier than the other two sets of headphones. The Sony and Bose headphones have very similar weights at 8.96 ounces (254 grams) and 8.82 ounces (250 grams) respectively, but ‌AirPods Max‌ are substantially heavier at 13.6 ounces (384.8 grams). If you dislike the feel of heavier headphones or plan on carrying them around frequently, you may prefer the two lighter headphones due to the added weight of ‌AirPods Max‌.

In addition, neither ‌AirPods Max‌ nor the Headphones 700 are able to fold up towards the headband due to their rigid stainless steel frames. Only the Sony WH-1000XM4 headphones can fully fold up, meaning that they will be the most portable and compact of the three options.
Audio Hardware
‌AirPods Max‌ feature two 40mm Apple-designed dynamic drivers to provide "rich, deep bass, accurate mid-ranges, and crisp, clean high-frequencies." ‌AirPods Max‌ use dual neodymium ring magnet motors to maintain a total harmonic distortion of less than one percent across the entire audible range, even at maximum volume, according to Apple.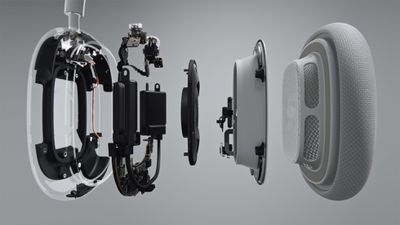 Like ‌AirPods Max‌, the Sony WH-1000XM4 headphones also have two 40mm drivers. The Sony headphones have Liquid Crystal Polymer diaphragms and can reproduce a full range of frequencies up to 40kHz.

Bose is more secretive about the audio technology behind its Noise Cancelling Headphones 700, but it is likely that it is quite similar to the other two with drivers around 40mm in size. Bose does explain, however, that its proprietary TriPort acoustic headphone structure uses external ports to vent the earcups and maximize the acoustic space inside.
There is no obvious advantage to any of the audio hardware used for these leading over-ear headphones. Instead, they come into their own more with computational audio features.
Computational Audio Capabilities
It is difficult to directly compare the computational audio capabilities of each of the headphones since each company promotes different aspects.
Apple says that the ‌AirPods Max‌ have an H1 chip in each ear cup supporting advanced software. Each chip has ten audio cores and is capable of nine billion operations per second. This allows ‌AirPods Max‌ to deliver "the highest-quality listening experience possible," with features such as Adaptive EQ, Active Noise Cancelation, Transparency mode, and Spatial Audio.

The WH-1000XM4s contain Sony's HD Noise Cancelling Processor QN1. This includes a built-in analog amplifier to limit signal-to-noise ratio and distortion. Again, Bose does not disclose the computational capability of the Headphones 700. It is yet to be seen if using two chips in ‌AirPods Max‌ offers a tangible advantage over the other headphones in their class, but generally speaking, customers can expect each to perform their computational audio functions well and there is no standout leader.
Adaptive Equalizer
‌AirPods Max‌ has a feature called "Adaptive EQ." This allows the Apple headphones to adjust sound to fit the seal of the ear cushions and enhance audio in real-time.
Although Sony does not market the feature as an adaptive equalizer like Apple, the WH-1000XM4 headphones use "Edge-AI" and the DSEE Extreme Digital Sound Enhancement Engine to upscale compressed digital music in real-time. The WH-1000XM4s can dynamically detect instrumentation, musical genres, and individual elements of each song, such as vocals or interludes, and restore the high-range sound lost in compression for "a richer, more complete listening experience."
The Bose Headphones 700 do not perform an adaptive equalizer function, and audio is simply delivered as it is received into the headphones. On this basis, if you are interested in computational audio enhancement, you will want to favor the ‌AirPods Max‌ or WH-1000XM4 headphones.
Active Noise Cancellation
Each ear cup of ‌AirPods Max‌ contains three outward-facing microphones to detect environmental noise, and one microphone inside each ear cup to monitor the sound that is reaching the listener's ear. This allows ‌AirPods Max‌ to deliver immersive sound through Active Noise Cancellation, which adapts continuously based on headphone fit and movement.

The Bose Headphones 700 similarly use microphones inside and outside the ear cups to instantly produce an opposite signal to cancel out external sound. Bose also says that it has given attention to avoid the sensation of pressure some people tend to feel when using Active Noise Cancelling headphones.
The Sony WH-1000XM4 have two microphones on each ear cup to capture ambient noise. The Sony Bluetooth Audio SoC then works with the QN1 to apply an Active Noise Cancellation algorithm and adjust music over 700 times per second. Sony has also added Atmospheric Pressure Optimizing, designed specifically for Active Noise Cancellation during air travel. In addition, over time, Sony's Adaptive Sound Control feature learns to recognize locations that you frequently visit and tailors sound to suit the situation.
With a single press of the noise control button on the top of ‌AirPods Max‌, users can switch to Transparency mode to simultaneously listen to music while hearing the environment around them.
Sony has a very similar feature, except it allows you to vary how much ambient noise is let in. Ambient Sound Control, adjusted via the Sony Headphones Connect app, lets listeners adjust the volume of background sound when using Active Noise Cancellation, and offers options such as allowing voices alone to be heard.
The Headphones 700 also offer sound control, with 11 settings that range from full Active Noise Cancellation to full transparency. Moreover, users can easily trigger Conversation Mode by placing a hand over an earcup, which simultaneously switches the headphones to full transparency and pauses playing audio, for a momentary break from listening.

As Active Noise Cancellation is a key feature of each of the headphones, they are highly comparable in terms of features and ability. While there are some specific tweaks with each headset, such as Sony's Atmospheric Pressure Optimizing or Bose's Conversation Mode, each of the headphones perform Active Noise Cancellation similarly.
The only noticeable omission from ‌AirPods Max‌ is that listeners cannot vary the amount of Transparency when listening. Apple seems to have wanted to simplify the feature to a binary choice activated by a single button for users, but if the ability to vary Transparency is important to you, you will want to select either the Sony or the Bose offerings. Likewise, specific features such as Bose's pressure relief efforts or Sony's voice isolation may take the lead in your personal use-case.
Controls
The Sony WH-1000XM4s have a mixture of physical buttons and touch controls. Physical buttons handle power, pairing, and Active Noise Cancellation modes. The outer casings of the ear cups also serve as touch-capacitive control panels. These can be used to play, pause, or skip music, as well as adjust the volume. The right ear cup accomplishes playback and volume control, while the left ear cup lets you access ambient sound controls or your voice assistant. Sony also allows gestures to be toggled in the Sony Headphones Connect app.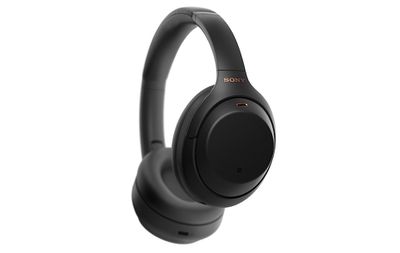 The Bose Noise Cancelling Headphones 700 similarly feature a mix of control methods. There are low-profile buttons for pairing, Active Noise Cancelling control, and voice assistant access, while volume, calls, and playback are controlled through a capacitive touch panel on the right ear cup with a special anti-stick coating.
‌AirPods Max‌ eschew touch control entirely. Instead, ‌AirPods Max‌ have a Digital Crown, inspired by the Apple Watch, to give precise volume control and the ability to play or pause audio, skip tracks, answer or end phone calls, and activate Siri. There is also a button to activate Transparency mode.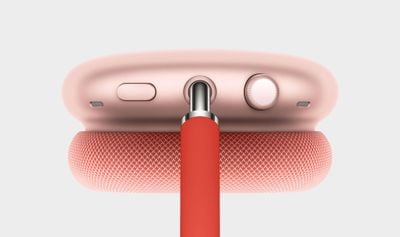 Control type is to some extent down to personal preference, but there is no doubt that many people find some touch-based inputs to be awkward and unintuitive. While both the Sony and Bose headphones do have physical buttons for important functions like Active Noise Cancellation, users of these headphones will have to get used to swiping and tapping the ear cups for touch-based inputs. While many will find this perfectly acceptable, the controls of ‌AirPods Max‌ offer a clear advantage in terms of simplicity, tactility, and precision.
Ports
The Headphones 700 have a USB-C port for charging, but this can also be used to play audio via USB-C or USB-A from the source. There is also a 2.5mm audio jack to connect via a 3.5mm audio jack on the source.

The Sony WH-1000XM4s have similar connectivity with USB-C, but they use a slightly more common 3.5mm headphone jack for wired playback instead of a 2.5mm jack.
‌AirPods Max‌ have a single Lightning port for charging, and there is no headphone jack. With use of a Lightning to 3.5mm headphone jack cable, users can connect ‌AirPods Max‌ to any external device of their choosing for playback, but there is no option for listening over USB-C. Users who require maximum connectivity options or USB listening will certainly prefer the Bose or Sony offerings over ‌AirPods Max‌.
Microphones
‌AirPods Max‌ have nine microphones in total. Beamforming technology allows the headphones to block out ambient noise and focus on the user's voice for clearer calls and ‌Siri‌ commands.
Sony says that the WH-1000XM4's seven-microphone setup facilitates Precise Voice Pickup Technology, which combines five built-in microphones with advanced audio signal processing to give clearer voice quality during phone calls.
The Bose Headphones 700 feature an eight-microphone system engineered for voice-pickup and calls. Six mics work together to cancel ambient noise, while four mics combine to improve the clarity of your voice.

Each set of headphones uses similar technology to isolate voices, but with nine microphones and beamforming, the specs of ‌AirPods Max‌ edge ahead in this area.
Pairing, Automatic Detection, and Device Switching
Like AirPods and AirPods Pro, ‌AirPods Max‌ also have the same simple one-tap setup experience that the series of headphones has become renowned for, as well as automatic pairing with all the devices signed in to a user's iCloud account.

The Bose Noise Cancelling Headphones 700 offer fast and easy pairing with Android devices, allowing users to connect and set up Google Assistant more quickly. The Sony WH-1000XM4s also supports Google's new Fast Pair feature.
‌AirPods Max‌ automatically detect when they are on a user's head using their optical and position sensors. Once in place, ‌AirPods Max‌ play audio and can pause once removed or when the user simply lifts one ear cup.
The WH-1000XM4s use a proximity sensor and two acceleration sensors to detect whether they are being worn or not, and then adapt playback accordingly to help save battery power. When the headphones are taken off, the music pauses automatically and plays again when put back on. Bose does not advertise an equivalent automatic detection feature for the Headphones 700.
Automatic switching on ‌AirPods Max‌ allows users to seamlessly move sound between iPhone, iPad, and Mac without having to change audio output settings. When playing music on Mac, for example, users can easily take a call on ‌iPhone‌ and ‌AirPods Max‌ will automatically switch over.
The WH-1000XM4 headphones and Bose Headphones 700 can be paired with two Bluetooth devices at the same time in a feature called Multipoint Connection. So when a call comes in, the headphones know which device is ringing and connect to the right one automatically. Users can also quickly switch the headphones to either of the two devices at the touch of a button.
Apple's use of custom silicon and control of the full stack allows it to implement pairing, automatic detection, and device switching in a much more seamless way than its competitors. In fact, these features were popularized by AirPods, and the experience has yet to be perfectly matched by competitors. For example, AirPods users can easily connect multiple sets of AirPods to Apple devices, or receive messages announced by ‌Siri‌.
While Bluetooth Multipoint Connection goes some way to smoothing out device switching, the two-device limit still places it behind AirPods, and there will still be more use of pairing modes and on-device Bluetooth settings than with AirPods.
360-Degree Audio
Spatial Audio uses the gyroscope and accelerometer in ‌AirPods Max‌ to dynamically track head position to place sounds within a virtual space. This delivers "an immersive, theatre-like experience" for content recorded in 5.1, 7.1, and Dolby Atmos. Since this is done with a connected ‌iPhone‌ or ‌iPad‌, spatial audio tracks the motion of a user's head as well as the connected device, meaning that the sound field is remapped to be anchored to the device, even as the user's head moves.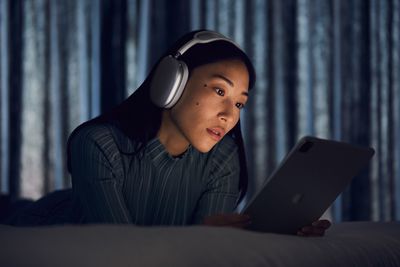 The WH-1000XM4 has a similar 360 Reality Audio feature, but it will not be able to track head movement relative to devices like ‌AirPods Max‌. The Bose Headphones 700 has a theatre feature to pair with Bose Soundbars for private TV viewing, but there is no 360-degree audio.
‌AirPods Max‌'s Spatial Audio is therefore unique among the three headphones, so users who consume plenty of compatible media will prefer Apple's headphones.
Battery Life
‌AirPods Max‌ feature 20 hours of battery life with Active Noise Cancellation and Spatial Audio enabled. Just five minutes of charge time provides around 1.5 hours of listening. However, it is worth noting that there is no off button for ‌AirPods Max‌, and while it is possible to put them into an ultra low power mode with their Smart Case, ‌AirPods Max‌ will always consume some power. They will remain powered on and connected if you leave them stationary outside of the Smart Case, although the battery drains only slightly faster than if they were in the case.
Just like ‌AirPods Max‌, the Bose Headphones 700 have a 20-hour battery life. The battery charges in 2.5 hours, and a 15-minute quick-charge can deliver 3.5 hours of playback.
The Sony WH-1000XM4 headphones offer up to 30 hours of battery life with Active Noise Cancellation enabled. With Sony's optional AC adapter, you can get five hours of battery life after just ten minutes of charging. The Sony headphones are by far the leader when it comes to battery life and fast charging, with a whole extra ten hours of battery life over the other two sets of headphones. Users who are likely to spend time traveling and need the best possible listening time should therefore opt for the Sony WH-1000XM4s.
Case
All three sets of over-ear headphones come with separate carrying cases. The Sony WH-1000XM4s come with a durable compact carrying case that also stores a cable for wired listening. Since the WH-1000XM4's ear cups can swivel and fold inwards, they can pack up much more neatly to fit in a compact case.

The Bose Noise Cancelling Headphones 700 also come with a durable case that encloses the entire headset, but since the steel headband is rigid and forbids folding, the headphones have to be stowed at full size. Bose also sells a separate Headphones 700 Charging Case, which contains an external battery.

‌AirPods Max‌ come with a soft, slim Smart Case. ‌AirPods Max‌'s earcups swivel inwards to fit in the Smart Case, but they do not fold up to be any more compact. The ‌AirPods Max‌ Smart Case does not enclose the entire headset either, with the case only covering most, but not all, of each earcup. The Smart Case does not add substantial protection to ‌AirPods Max‌, with the entire headband and canopy mesh being fully exposed. Instead, the purpose of the Smart Case is to put ‌AirPods Max‌ into an ultra-low power state that helps to preserve battery life when not in use. Otherwise, ‌AirPods Max‌ will remain powered on as there is no off button.

The Sony WH-1000XM4's case offers maximum protection and portability. The Bose Noise Cancelling Headphones 700 are also a viable option for protection, but they will take up more space than the WH-1000XM4s. The ‌AirPods Max‌'s Smart Case is the least protective of all of them, and offers neither substantial protection nor added portability. Users who intend to use their headphones for frequent travel or are concerned about protecting their headphones may want to discount ‌AirPods Max‌ from their options for this reason.
Final Thoughts
Overall, it is clear that the Sony WH-1000XM4 headphones and the Bose Noise Cancelling Headphones 700 have a great deal in common with each other, such as price tag, weight, use of capacitive touch, and variable Active Noise Cancellation, especially when compared to ‌AirPods Max‌.
‌AirPods Max‌ take a simpler approach to many of the areas addressed by premium over-ear headphones, with features such as Adaptive EQ that work in the background, more limited connectivity, and a binary, on-off approach to Active Noise Cancellation.
For users who are engaged in Apple's ecosystem of devices, ‌AirPods Max‌ offers some undeniable advantages that come from Apple's close integration of hardware and software, with the likes of Spatial Audio and Automatic Pairing. For Android or Windows users, the benefits are less clearly pronounced. Users with multiple Apple devices users may wish to preference ‌AirPods Max‌ for this reason, and likewise Android users may prefer the Bose or Sony options.
However, if ‌AirPods Max‌'s $549 price tag is out of your budget, you will not be losing many features when opting for the Sony or Bose offerings. Indeed, audiophiles who would enjoy variable Active Noise Cancellation and better connectivity options will prefer the lower-cost over-ear headphones.
Furthermore, users who frequently travel will appreciate the Sony WH-1000XM4's more compact design, longer battery life, and even optimizations for Active Noise Cancellation during air travel.