The Best Cyber Monday iPhone Deals
Black Friday is over and Cyber Monday has arrived, and discounts are still available on the iPhone 15, iPhone 15 Plus, iPhone 15 Pro, and iPhone 15 Pro Max.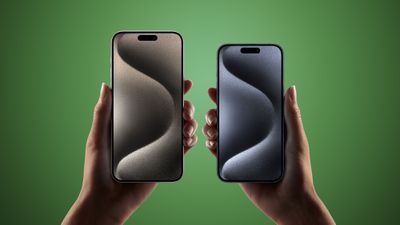 Note: MacRumors is an affiliate partner with some of these vendors. When you click a link and make a purchase, we may receive a small payment, which helps us keep the site running.
Best iPhone and Accessory Deals
Best Cyber Monday Deals
AT&T
AT&T has introduced a number of sales for Apple's iPhone 15 this month, offering up to $1,000 off the iPhone 15 Pro or iPhone 15 Pro Max with an eligible smartphone trade-in. Models with lower storage capacities can be purchased at no cost thanks to these discounts, and of course you'll need to purchase the new smartphone on a qualifying installment agreement.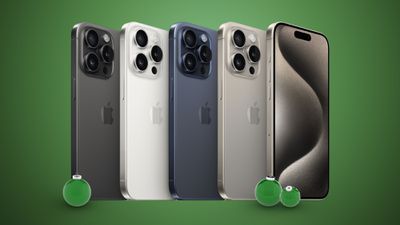 You can get up to $830 off the iPhone 15 or iPhone 15 Plus as well, with the same stipulations as the Pro devices. Both offers will be delivered via monthly bill credits, starting within three bills after trade-in is completed. It'll be applied in equal amounts over the term of your installment agreement.
For the iPhone 15 Pro and iPhone 15 Pro Max offer, you'll need to trade in a device with a value of $230 or higher to get the full $1,000 off markdown. You'll get up to $830 in bill credits with a trade-in value of $130 to $229 and up to $350 in bill credits with a trade-in value of $35 to $129.
For older iPhone models, AT&T is offering the 128GB iPhone 14 at $10.99/month with no trade-in required. Similarly, the iPhone 14 Pro is available at $15/month with no trade-in required. For these, all you'll need is to purchase the smartphones on an installment plan and pick or upgrade to an eligible unlimited plan.
AT&T is also taking $300 off any Apple Watch when you purchase two at the same time. Like smartphone plans, you'll have to buy two Apple Watches on an installment plan, add at least one new line, and activate both on your wireless plan. Afterwards, you'll get up to $300 in bill credits over 36 months.
Verizon
At Verizon, you can get a special bundle offer if you're interested in purchasing the new iPhone 15 Pro this holiday season. When you do pick up the new smartphone with a new line on an Unlimited Plus or Unlimited Ultimate plan, Verizon will reward you with an Apple TV 4K (64GB) and six months of Apple One at no cost.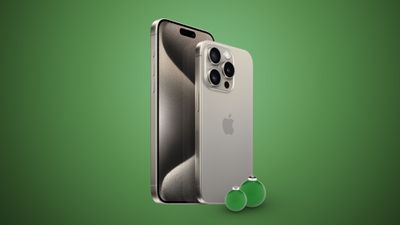 Of course, you can purchase higher storage iPhone 15 Pro or iPhone 15 Pro Max models, but at that point you'll be paying a little extra. The Apple TV 4K promotion requires a smarpthone purchase on an eligible plan and ends on November 15, while the Apple One six month promotion requires a line subscribed to an Unlimited Plus or Unlimited Ultimate plan.
For last year's models, you can get four iPhone 14 Plus devices for free along with four lines on Unlimited Welcome at $120/month. A new line on any 5G Unlimited plan is required per smartphone. You can also stack this with Verizon's current tablet and smartwatch promotions, which offer up to $279.99 off these devices.
Verizon is also a great place to buy stocking stuffers for techies during the holiday season with its abundant accessory sales. Right now it has up to $50 off Anker speakers, 30% off Nimble chargers, 20% off Apple Watch bands, and 20% off Mophie chargers.
Visible
Verizon's Visible brand has $10 off its premium Visible+ service, now priced at $35/month with the promo code 35FOR6 used at checkout. This promotion will last for six months, and after it ends it will return to the regular price of $45/month for the Visible+ service.
Visible offers all of the latest smartphones, including iPhone 15 and iPhone 15 Pro models. When you join Visible, you'll save up to $240 via monthly bill credits on your account. You'll need to join Visible on a new line of service, purchase a new device, and select the Visible+ plan.
T-Mobile
T-Mobile is providing up to $1,000 off the new iPhone 15 or iPhone 15 Pro when you trade in an eligible device on a Go5G Next plan. You can get up to $830 off these devices when you trade in an eligible device on a Go5G Plus plan.
The carrier also has a wide variety of previous generation iPhones at a discount. This includes the iPhone 13 and iPhone SE at no extra cost when purchased on select cellular plans and trading in eligible devices.
Accessories
To cap things off, we're pointing out some great iPhone accessories that you can find on sale at Amazon and Woot. Woot's sale has the MagSafe Charger and MagSafe Duo Charger at all-time low prices, but these have been fluctuating since the beginning of November. If they're gone when you check, be sure to try again sometime soon.

Be sure to visit our full Deals Roundup to shop for even more Apple-related products and accessories.