Apple Reports 4Q 2023 Results: $23B Profit on $89.5B Revenue
Apple today announced financial results for the fourth fiscal quarter of 2023, which corresponds to the third calendar quarter of the year.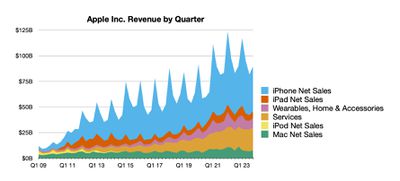 For the quarter, Apple posted revenue of $89.5 billion and net quarterly profit of $23.0 billion, or $1.46 per diluted share, compared to revenue of $90.1 billion and net quarterly profit of $20.7 billion, or $1.29 per diluted share, in the year-ago quarter.
Gross margin for the quarter was 45.2 percent, compared to 42.3 percent in the year-ago quarter. Apple also declared a quarterly dividend payment of $0.24 per share, payable on November 16 to shareholders of record as of November 13.
For the full fiscal year, Apple recorded $383.3 billion in sales and $97.0 billion in net income, down slightly from $394.3 billion in sales and $99.8 billion in net income for fiscal 2022.
"Today Apple is pleased to report a September quarter revenue record for iPhone and an all-time revenue record in Services," said Tim Cook, Apple's CEO. "We now have our strongest lineup of products ever heading into the holiday season, including the iPhone 15 lineup and our first carbon neutral Apple Watch models, a major milestone in our efforts to make all Apple products carbon neutral by 2030."
As has been the case for over three years now, Apple is once again not issuing guidance for the current quarter ending in December.


Apple will provide live streaming of its fiscal Q4 2023 financial results conference call at 2:00 pm Pacific, and MacRumors will update this story with coverage of the conference call highlights.
Conference call recap ahead...
1:39 pm: After closing up around 2% in regular trading today, Apple's share price is down around 1.5% following the earnings release.
1:47 pm: Cook to CNBC: "If you look at iPhone 15 for that period of time and compare it to iPhone 14 for the same time in the year-ago quarter, ‌iPhone 15‌ did better than ‌iPhone 14‌," Cook told CNBC's Steve Kovach. He added that Apple's more expensive Pro and Pro Max iPhones were supply constrained because of high demand.
1:49 pm: Cook to Reuters: "In mainland China, we set a quarterly record for the September quarter for iPhone," Cook told Reuters. "We had four out of the top five best-selling smartphones in urban China."
Cook also said two of Apple's new high-end handset models - the iPhone 15 Pro and Pro Max devices - are facing supply constraints.
"We're working hard to manufacture more of them," he said. "We do believe that later this quarter, we'll reach a supply-demand balance."
2:01 pm: Apple's quarterly earnings call with financial analysts is beginning. Expected on the call are Apple CEO Tim Cook and CFO Luca Maestri. They will give an overview of the quarter and then answer questions from analysts.
2:02 pm: The call is beginning with a typical introduction from an Apple PR rep, warning that the call will include forward-looking statements about Apple's finances.
2:03 pm: ‌Tim Cook‌: "Apple is reporting revenue of $89.5 billion for the September quarter. we achieved an all-time revenue record in India, as well as September quarter records in several countries including Brazil, Canada, France, Indonesia, Mexico, the Philippines, Saudi Arabia, Turkey, the UAE, Vietnam, and more."
2:03 pm: "‌iPhone‌ revenue came in ahead of our expectations, setting a September quarter record, as well as quarterly records in many markets, including China mainland, Latin America, the Middle East, South Asia, and an all-time record in India."
2:03 pm: "In services, we set an all-time revenue record with double-digit growth and ahead of our expectations."
2:04 pm: "During the September quarter, we continued to face an uneven macroeconomic environment, including foreign exchange headwinds, and we've navigated these challenges by following the same principles that have always guided us."
2:04 pm: "We've continued to invest in the future, and manage for the long term. We've adapted continuously to circumstances beyond our control, while being thoughtful and deliberate on spending. And we've carved a path of groundbreaking innovations and delivered with excellence every step of the way. That includes Apple Vision Pro, which has gotten such an amazing response from developers who are currently creating truly incredible apps. We're excited to get this magical product in the hands of customers, early next year."
2:05 pm: "‌iPhone‌ revenue came in at $43.8 billion, 3% higher than a year ago and a new record for the September quarter."
2:05 pm: Tim is now touting the ‌iPhone 15‌ lineup, introduced at the tail end of the quarter.
2:05 pm: "Mac revenue came in at $7.6 billion, down 34% year over year, from the prior year's record quarter."
2:05 pm: "This was due to challenging market conditions, as well as difficult compares against the supply disruptions and subsequent demand recapture we experienced a year ago."
2:06 pm: Tim is citing the new M3 Macs introduced earlier this week as evidence of the company's innovation and investment in the Mac.
2:06 pm: "According to the latest data from StudentMonitor, nearly two out of three college students chose a Mac."
2:06 pm: "iPad revenue for the September quarter was $6.4 billion."
2:07 pm: "Across Wearables, Home and Accessories, revenue came in at $9.3 billion."
2:08 pm: On top of talking about the new Apple Watch products, Tim specifically calls out Apple's first fully-carbon neutral products.
2:08 pm: He continues by noting new features in iOS 17 and macOS Sonoma as more evidence of innovation.
2:09 pm: "Services revenue set an all-time record of $22.3 billion, a 16% year-over-year increase, and we achieved all-time revenue records across App Store, advertising, AppleCare, iCloud, payment services, and video as well as a September quarter revenue record for Apple Music."
2:10 pm: He's touting new content on Apple TV+, including Martin Scorsese's Killers of the Flower Moon. Apple TV shows have received 1600 award nominations and nearly 400 wins. Mentioning MLS Season Pass, saying that subscriptions have "exceeded expectations."
2:10 pm: "With the playoffs now underway, we can't wait to see who takes home the MLS Cup."
2:11 pm: The first ever Apple Retail Stores in India opened, plus new stores in Korea, China, and the UK. Apple Online Store opened in Vietnam and Chile, and there's another retail store opening in China this week.
2:12 pm: Tim is talking about the unique features and products Apple makes, including Emergency SOS via satellite, and talking about making sure Apple tech is accessible for everyone and to have a more inclusive workplace.
2:12 pm: "Our environmental efforts are a great example of the intersection of our work and our values. Across Apple, we act on a simple premise. The best products in the world should be the best products for the world. We've made our environmental work a central focus of our innovation because we feel a responsibility to leave the world better than we found it. And because we know that climate change cannot be stopped unless everyone steps up and does their part."
2:12 pm: "Our first ever carbon neutral products represent a major milestone, and we're going to go even further. We plan to make every product across our lineup carbon-neutral by the end of the decade. And we're not doing it alone. Over 300 of our suppliers have committed to using 100% clean energy for Apple production by 2030."
2:13 pm: "Apple is always looking forward, driven in equal measure by a sense of possibility and a deep belief in our purpose. We're motivated by the meaningful difference we can make for our customers, and keenly determined to push the limits of technology even further. And that's why I'm so confident that Apple's future is bright."
2:13 pm: CFO Luca Maestri is coming on the call to dive deeper into the financials.
2:13 pm: "Revenue for the September quarter was at $9.5 billion, down less than 1% from last year. Foreign exchange had a negative impact of over two percentage points. And on a constant currency basis, our revenue grew year-over-year."
2:14 pm: "We set a September quarter record in the Americas and saw strong performance across our emerging markets for both ‌iPhone‌ and services grew double digits."
2:14 pm: "Our total installed base of active devices reached an all-time high across all products and all geographic segments thanks to our high levels of customer satisfaction and many new customers joining our ecosystem."
2:14 pm: "Our services revenue set an all-time record of $22.3 billion, up 16% year over year, with growth accelerating sequentially from the June quarter."
2:15 pm: "We reached all-time revenue records in the Americas, Europe, and the rest of Asia Pacific, and a September quarter record in Greater China. We also set new records in every Services category."
2:15 pm: "Company gross margin set a September quarter record at 45.2%, up 70 basis points sequentially driven by leverage and favorable mix partially offset by foreign exchange."
2:16 pm: "Products gross margin was 36.6%, up 120 basis points sequentially, also driven by leverage and mix partially offset by foreign exchange. Services gross margin was 70.9%."
2:17 pm: "‌iPhone‌ revenue was $43.8 billion, up 3% year over year, and a new September quarter record. We had strong performance in several markets including an all-time record in India, and September quarter records in Canada, Latin America, the Middle East and South Asia. Our ‌iPhone‌ active installed base grew to a new all-time high, and fiscal 2023 was another record year for switchers."
2:17 pm: "Mac revenue was $7.6 billion, down 34% year over year, driven by challenging market conditions and compounded by a difficult compare in our own business. Last year, we experienced supply disruptions from factory shutdowns in the June quarter, and were subsequently able to fulfill a significant pent-up demand during the September quarter. We also had a difference in launch timing with the MacBook Air launching earlier this year in the June quarter compared to the September quarter last year."
2:17 pm: "Our install base is at an all-time high, and half of Mac buyers during the quarter were new to the product, driven by ‌MacBook Air‌. We saw reported customer satisfaction of 97% for Mac in the US."
2:18 pm: "‌iPad‌ generated $6.4 billion in revenue, down 10% year over year. Similar to Mac these results were a function of a difficult compare from the supply disruptions in the June quarter a year ago, and the subsequent fulfillment of pent-up demand in the September quarter. ‌iPad‌ continues to attract a large number of new customers to the installed base, with over half of the customers who purchase iPads during the quarter new to the product. The latest reports from 451 Research indicate customer satisfaction of 98% in the US."
2:19 pm: "Wearables, Home and Accessories revenue was $9.3 billion, down 3% year over year. We had a September quarter record in Europe, and we saw strong performance in several emerging markets around the world. Apple Watch continues to expand its reach, with nearly two-thirds of customers purchasing an Apple Watch during the quarter being new to the product, and customer satisfaction for the watch was recently measured at 97% in the US."
2:19 pm: "Services had a great quarter. We reached a new all-time revenue record of $22.3 billion, up 16% year over year. And we're happy to see growth coming from all categories and every geographic segment, which is a direct result of the strength of our ecosystem."
2:20 pm: "Our installed base of over 2 billion active devices continues to grow at a nice pace and establishes a solid foundation for the future expansion of the ecosystem."
2:20 pm: "We continue to see increased customer engagement with our services, both transacting accounts and paid accounts grew double digits year over year, each reaching a new all-time high. Our paid subscriptions showed strong growth. We have well over 1 billion paid subscriptions across the services on our platform, nearly double the number we had only three years ago."
2:21 pm: Luca is citing a number of enterprise customers who are investing heavily into the Apple ecosystem.
2:21 pm: "To our cash position and capital return program. We ended the quarter with over $162 billion in cash and marketable securities. We increased commercial paper by $2 billion, leaving us with total debt of $111 billion As a result, net cash was $51 billion at the end of the quarter."
2:22 pm: "During the quarter, we returned nearly $25 billion to shareholders, including $3.8 billion in dividends and equivalents and $15.5 billion to open market repurchases of 85 million Apple shares, we also began a $5 billion accelerated share repurchase program in August, resulting in the repurchase and retirement of 22 million shares."
2:23 pm: "Our annual revenue was $383 billion, down 3% from the prior year, it grew on a constant currency basis despite the volatile and uneven macroeconomic environment. Our year-over-year revenue performance improved each quarter as we went through the year, and so did our earnings per share performance as we reported double digit EPS growth in the September quarter."
2:23 pm: "We are particularly pleased with our performance in emerging markets with revenue reaching an all-time record in fiscal 2023 and double-digit growth in constant currency."
2:23 pm: "On foreign exchange, we expect a negative year-over-year revenue impact of about 1 percentage point."
2:24 pm: "As a reminder, the December quarter this year will last the usual 13 weeks, whereas the December quarter a year ago spanned 14 weeks. Revenue from the extra week last year added approximately seven percentage points to the quarter's total revenue."
2:25 pm: "We expect our December quarter total company revenue to be similar to last year.
We expect ‌iPhone‌ revenue to grow year-over-year on an absolute basis.
We also expect to grow after normalizing for both last-year supply disruptions and the one extra week, we expect Mac year-over-year performance to significantly accelerate from the September quarter.
We expect the year-over-year revenue performance for both ‌iPad‌ and Wearables, Home and Accessories to decelerate significantly from the September quarter due to a different timing of product launches on ‌iPad‌. We launched a new iPad Pro and ‌iPad‌ next-generation during the December quarter a year ago. Last year we had the full December quarter benefit from the launches of the AirPods Pro 2nd Gen, the Apple Watch SE and the first Apple Watch Ultra."
2:26 pm: We're moving to the Q&A section.
2:26 pm: Q: On ‌iPhone‌ storage and demand versus ‌iCloud‌. As demand for storage grows, are you seeing a mix shift towards higher storage ‌iPhone‌ models, or are consumers mostly opting for the same because of increased uptake of ‌iCloud‌+? What are some of the strategic and financial considerations here and trade-offs as you think about the mix shift towards higher storage models versus ‌iCloud‌ penetration?
2:27 pm: A: We started the line with the ‌iPhone‌ Pro Max at 256GB, and so we are seeing a different mix, if you will, this year than last year. Outside of that, not significant, significant changes."
2:29 pm: Q: Could you talk a little bit about the market conditions on notebooks and desktops, and then any color that you can share regarding the timing of the Mac through M3 MacBook Pros this year versus the M2 earlier in the calendar year.
A: We're thrilled to have announced M3 lineup. Get the new MacBook Pro and the new iMac out there.
We anticipate a significant acceleration in Mac for Q1. In the year-ago June quarter, we had a factory disruption that lasted several weeks. The pent-up demand that resulted from that was filled in September quarter. And that made the September quarter not only record but a substantial record and obviously, we're now comparing against that for 2023 and I wouldn't look at the negative 34% growth as representative of the underlying business performance."
2:31 pm: Q: Could you help us characterize what the demand environment you're seeing in China looks like, how has the reception been to the ‌iPhone 15‌ and how would you characterize the mix within China as you go through this current product cycle?
A: One thing to keep in mind here is that the FX impact was nearly six points. So we grew in constant currency and underneath that, if you look at the different categories, ‌iPhone‌ actually set a September quarter record, and in mainland China, what pulled down the performance was a combination largely of Mac and ‌iPad‌. Services also grew during the quarter and the Mac and ‌iPad‌ suffered from the same issues that the company did with the compare issues to 2022."
2:33 pm: Q: As we move towards more of an inflationary component pricing environment, how do we think about that effect or how you're thinking about the gross margin at the product level?
As maybe component pricing starts to turn what has been clearly very favorable over the last several quarters to more of an inflationary environment.
A: Well as you've seen from our results in Q4 and the guidance for Q1, we're obviously experiencing very strong levels of gross margin. The 45.2 was a record for this September quarter. And then you know the guidance for Q1 is obviously strong at 45 to 46%. Gross margins are affected by multiple factors. Obviously, the commodity environment is one of them. as you mentioned. It's been a good environment In recent quarters, But equally important is the mix of what we sell. Growth in services for us is favorable and that has helped our company gross margin. Foreign exchange, on the other hand, has been a drag for several quarters given the strength of the dollar.
2:33 pm: Q: I know that the ‌iPhone 15 Pro‌ and Pro Max are constrained today but I think some of your comments suggests you shouldn't be back to supply-demand balance before quarter end. Does your December quarter revenue guidance account for any supply constraints? And if so, is there any way to kind of quantify how much supply would be limiting your December quarter revenue performance?
A: We are constrained today on ‌iPhone 15 Pro‌ and ‌iPhone 15 Pro‌ Max. We're working very hard to get the product in the hands of all the customers that have ordered it. We expect, as of today, that we're going to be in supply-demand balance by the end of the quarter, so the guidance reflects that.
2:35 pm: Q: You've been on the leading edge of innovation across hardware, software, and services, and technologies and kind of longer-term projects that you're investing in. How should we think about your capital intensity as we look to fiscal year 2024, as over the last few years, capex as a percentage of revenue has been relatively low compared to the eight years prior.
Should we expect a step up in capital-investment intensity and what are the more notable moving pieces that we should be thinking about?
A: The big areas of investment for us are tooling and equipment for manufacturing plants, our investments in data centers, and our investments in our own facilities, both corporate facilities and retail stores.
And so both for the tooling in our plants and you know, our data center investments, we tend to have a bit of a hybrid model where we share some of the investments with our partners, and suppliers. So maybe that's why you see sometimes a bit of variability. But over the last few years, we made all the investments that we need to make and we're planning to make all the investments that we believe are needed and appropriate in order to continue to innovate.
2:38 pm: Q: ‌iPhone‌ business looks like it returned to growth in the quarter. But it's still relatively softer than where I would thought it would be at this point in the cycle. Some of the US carriers obviously haven't been particularly aggressive in promoting upgrades. I wanted to kind of get a sense from your partners in the US currently and going forward and what do you expect on upgrades?
Is it fair to say that the mix in Q1 from a product versus services dynamic is kind of the key driver of the better gross margin guide as a whole relative to the December quarter, or is there anything else? I know you mentioned there's a lot of moving pieces, but is that the primary driver of the uplift in the margins?
A: On the US carriers and the US business in general, it's really too early to call the ‌iPhone‌ cycle, particularly with the constraint around the Pro and Pro Max in the US tends to do quite well with those products. It's really too early to tell what the upgrade rates will be and what the switcher rates will be.
December is the quarter where our products business is tends to be very heavy because of the holiday season and so the Services gross margin has an impact but not as meaningful as other quarters during the year. And so I think that the the main drivers of the guidance that we provided are the fact that we are seeing improved costs and improved margin on the product side of the business, partially offset by foreign exchange which continues to be a drag both sequentially and on a year-over-year basis.
2:40 pm: Q: The Services growth rate was a tremendous acceleration in September quarter to 16% growth. Can you talk about what is driving this acceleration? Are there a couple of products that have stepped up in a very meaningful way? What is driving the situation? It's very notable compared to what you've been seeing the last few quarters.
A: We had a really strong quarter across the board both geographically and from a product category standpoint. We had all-time records for the ‌App Store‌, for advertising, for ‌iCloud‌, video, ‌AppleCare‌, and payments, and a September quarter record for Music, so it's hard to pick one in particular because they all did well.
2:42 pm: Q: About Vision Pro, which I believe is supposed to be launched more broadly sometime in 2024 in the early part of the year.
I'm curious how different you think the launch and the consumer education of this product. How will it be versus other things like AirPods or Apple Watch that you've done, and then perhaps what has stood out to you from the developers that have been able to use this and the developer labs, what feedback have you gotten from them?
A: There's a tremendous amount of excitement around the Vision Pro and we've been very happy to share it with developers. We have Developer Labs set up in different parts of the world so that they can actually get their hands on it and are working on apps, and I've been fortunate enough to see a number of those. To answer your question about is it similar to AirPods or Apple Watch? I would say no. There's never been a product like Vision Pro and so we're purposely bringing it out in our stores only so we can put a great deal of attention on the last mile of it. We'll be offering demos in the stores and it'll be a very different process than the normal grab-and-go kind of purchase.
2:44 pm: Q: Lots of companies are experimenting with generative AI. I'm curious about what kind of efforts you have made, I was curious about if you can give us a glimpse on how you might be able to monetize some of these efforts with generative AI.
A: If you zoom out and look at what we've done on AI and machine learning and how we've used it, we view AI and machine learning as fundamental technologies, and they're integral to virtually every product that we ship.
When we shipped ‌iOS 17‌, it had features like personal voice and live voicemail. AI is at the heart of these features and then you can go all the way to the life-saving features on the watch and the phone, like fall detection, crash detection. ECG on the watch. These would not be possible without AI.
We don't label them as such, we labeled them as to what their consumer benefit is. But the fundamental technology behind it is is AI and machine learning. In terms of generative AI, we have obviously we have work going on but I'm not going to get into details about what it is because as you know, we don't we really don't do that.
But you can bet that we're investing quite a bit. We're going to do it responsibly.
2:47 pm: Q: Over the last decade, you can source a lot of important chips in your iPhones, in Macs, in iPads, and so forth. Now we see these silicon guys, the chip guys, moving to ARM architecture. So my question to you is, for silicon in general, is it an economically profitable proposition for Apple or as a strategic one for you to own this? And is it vital to your products for the consumer experience or could you buy from the industry?
A: Apple silicon has really enabled us to build products that we could not build without doing it ourselves. We like to own the primary technologies in the products that we ship. And arguably Apple silicon is at the heart of the primary technologies. And so no, I don't see going back to buying off the shelf. I am happier today than I was yesterday than I was last week that we made the transition that we've made and I see the benefit every day of it.
2:49 pm: Q: You obviously had a great Services quarter and part of your Services business has these licensing relationships.
On web search partners, you serve a very important distribution function for them. Can you talk about how you think about these relationships and potentially some of the options Apple has to mitigate some of the risks, given some of the scrutiny on what some of these search partners are doing?
A: They are important relationships, and as you know, we don't get into our commercial relationships in the call. I see them as important, and we make decisions that we feel are in the best interests of our users.
2:51 pm: Q: Is there room for margin expansion? As revenue has declined, gross margins have improved.
A: On the product side, when we launch new products, the cost structures of those products tend to be higher than the products that they replace.
It happens because we're always adding new technologies and new features. And then we work through the cost curve over the over the lifecycle of the product and we tend to get benefits as time goes by. The guidance that we provided for December reflects all that and so we are starting from a different position than a year ago or in the past in general.
There are other factors that play a role. For example, the mix of products that we sell. Not every product has the same gross margin profile. And so our guidance our results are reflective of that and also within a specific product category. A lot depends on the kind of models that we sell because they are different margin profiles.
I think one of the things that we've done well over the last few years is to offer more affordability solutions to our customers in the form of installment plans, trade-in options and low cost financing in general. And what that has accomplished is reduced the affordability threshold for our customers and therefore they can you know buy at the top of our product ranges. That has been a big factor in the reason for our margin expansion.
2:53 pm: Q: Seeing amazing momentum in India. How do you look at look at the India growth opportunity on these hardware units? How should we think about ASP versus the rest of the geographies and is there a way to compare and contrast India with China?
A: This is China maybe a decade ago. We had an all-time revenue record in India, we grossed very strong double digits. It's an incredibly exciting market for us, and a major focus of ours. We have small share in a large market and so it would seem that there's a lot of headroom there.
The ASPs, I haven't looked at them recently but I'm sure that they're lower than worldwide.
In terms of the similarity, I would say each country has its own journey and I wouldn't want to play the comparison game but we see an extraordinary market with a lot of people moving into the middle class. Distribution is getting better. We put two retail stores there and they're doing better than we anticipated. It's still early going, but they're off to a good start and I couldn't be happier with how things are going at the moment.
2:56 pm: Q: I appreciate all your commentary around China. It was great to kind of hear about the growth potential there and your optimism. What about the supply chain and where is your priority? Do you have a priority to diversify your supply chain and how do you feel about Apple's supply chain around the world in particular, what do you think about the investments in the US?
A: You know, our supply chain is truly global. We're investing all over the world, including in the United States. We were very focused on advanced manufacturing for the US and we've worked on a number of different projects in the US, whether it's our venture with Corning on the glass, the Face ID module, or semiconductors. And so all of these are our advanced manufacturing and I think they're exactly the kinds of things that you would think the US would be very good at.
We also invest in other regions of the world and we're continually optimizing the chain. At the moment we learn something didn't work exactly right, we're tweaking it. And so we're we're gonna continue to do that. But at the end of the day, it will still be a global supply chain.
2:58 pm: Q: Really quick on the extra week dynamic. There was, last year, an issue with the ‌iPhone‌ production when there were the COVID lockdowns in China. Is it possible to give some color around what having a normalized supply chain somewhat this year?
A: The extra week is seven points of revenue. We did have supply disruptions last year on the phone. And then the 14th week in the December quarter a year ago.
When we normalize for those two factors, and I said it during the call, we still expect to grow on ‌iPhone‌. You take into account the loss of a week, you compare it with supply disruptions that are not going to repeat hopefully this year, and when you normalize for those two things, we still expect to grow on ‌iPhone‌.
2:59 pm: Q: Where is the growth in R&D coming from? Is that Vision Pro or content or new services?
A: It's Vision Pro, it's AI and ML. It's the silicon investment that we're making. It's sort of all of those things, and I think you would find that the R&D expenditure in the aggregate looks very competitive versus others. Some of the investments that we're making in R&D are also the drivers for the gross margin expansion. I think it's important to think about it that way.
3:02 pm: Q: Tim mentioned college students choosing Macs and you mentioned the record Services revenue. What metrics do you think you could provide to help investors understand how Apple measures customer lifetime value, especially when we see a lot of users entering the ecosystem with a relatively lower price products or even refurbished devices? You're growing your ecosystem, but how do you think about growing customer lifetime value over the long run?
A: We want to make sure that you know the customers that we acquire remain with us. We pay a lot of attention to the behavior of the install base, both by product and by geography. Then we look at the daily engagement in the ecosystem. That's why we pay a lot of attention to things like transacting accounts, paid accounts. We want to see if we are able to move our customers from a free model to a paid model over time. That's obviously very, very important for us.
We keep track of all these things and, you know, then what we do, because I think what's really important is that over time we add new services. The progress that we made in payments in recent years is very important because we've attracted more people that are actually now using additional features on our devices and we are able to monetize that.
We take all that into account. We understand what happens when a customer joins us, when they buy a primary device versus a used device. We understand their behavior in different markets and so on. We have pretty good visibility and I think the progress that we're making in Services, with $85 billion in the last 12 months, that's the size of a Fortune 50. Significantly bigger than it was just a couple of years ago.
3:03 pm: And that's the end of the call! Thanks for joining us.