Apple Reports 4Q 2022 Results: $20.7B Profit on $90.1B Revenue
Apple today announced financial results for the fourth fiscal quarter of 2022, which corresponds to the third calendar quarter of the year.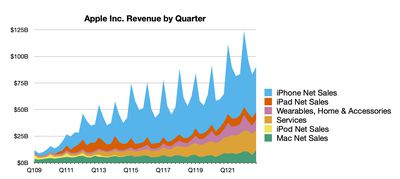 For the quarter, Apple posted revenue of $90.1 billion and net quarterly profit of $20.7 billion, or $1.29 per diluted share, compared to revenue of $83.4 billion and net quarterly profit of $20.6 billion, or $1.24 per diluted share, in the year-ago quarter.
Gross margin for the quarter was 42.3 percent, compared to 42.2 percent in the year-ago quarter. Apple also declared a quarterly dividend payment of $0.23 per share, payable on November 10 to shareholders of record as of November 7.
For the full fiscal year, Apple set new company records with $394.3 billion in sales and $99.8 billion in net income, up from $365.8 billion in sales and $94.7 billion in net income for fiscal 2021.
"This quarter's results reflect Apple's commitment to our customers, to the pursuit of innovation, and to leaving the world better than we found it," said Tim Cook, Apple's CEO. "As we head into the holiday season with our most powerful lineup ever, we are leading with our values in every action we take and every decision we make. We are deeply committed to protecting the environment, to securing user privacy, to strengthening accessibility, and to creating products and services that can unlock humanity's full creative potential."
As has been the case for over two years now, Apple is once again not issuing guidance for the current quarter ending in December.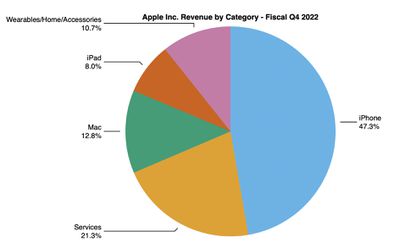 Apple will provide live streaming of its fiscal Q4 2022 financial results conference call at 2:00 pm Pacific, and MacRumors will update this story with coverage of the conference call highlights.
Conference call recap ahead...

1:37 pm: After closing down 3% in regular trading and drifting down another 2% in after-hours trading prior to the earnings release, Apple's stock price has rebounded slightly and is now down less than half a percent compared to its regular close.
1:41 pm: Revenue and earnings numbers were September quarter records for the company. Mac, iPhone, Services, and Wearables also set September quarter revenue records, with only iPad registering a year-over-year decline.
1:52 pm: For the full fiscal year 2022, Apple surpassed $200 billion in iPhone revenue for the first time, hitting $205 billion. Services reached $78 billion, wearables hit $41 billion, and Mac generated $40 billion, all records. iPad brought in $29 billion, down from $32 billion in fiscal 2021.
1:54 pm: Apple CFO Luca Maestri: "Our record September quarter results continue to demonstrate our ability to execute effectively in spite of a challenging and volatile macroeconomic backdrop. We continued to invest in our long-term growth plans, generated over $24 billion in operating cash flow, and returned over $29 billion to our shareholders during the quarter. The strength of our ecosystem, unmatched customer loyalty, and record sales spurred our active installed base of devices to a new all-time high. This quarter capped another record-breaking year for Apple, with revenue growing over $28 billion and operating cash flow up $18 billion versus last year."
2:00 pm: The quarterly earnings call with analysts is about to begin.
2:02 pm: The call begins, with Apple CEO Tim Cook and Apple CFO Luca Maestri speaking. This year, the December quarter will last for 14 weeks instead of 13 weeks. This happens once every six years to align the fiscal quarter with the actual calendar quarter.
2:03 pm: Tim takes over. "Over the past year, despite a range of challenges facing the world, our teams have come together in incredible ways to drive unparalleled innovation and deliver again and again for our customers."
2:03 pm: Record revenue of $90.1 billion, better than expected despite strong FX headwinds.
2:04 pm: Apple set quarterly records across a number of categories. New record of installed base of active devices, double digit growth in switchers on iPhone.
2:04 pm: Double-digit growth in India, Southeast Asia and Latin America. Silicon-related supply constraints were not significant.
2:04 pm: A lot of people in a lot of places are struggling.
2:05 pm: Creativity and collaboration have always been at the core of who we are.
2:05 pm: Revenue of $394 billion in fiscal 2022. Records for iPhone; Mac; Wearables, Home and Accessories; and Services.
2:06 pm: Tim is talking up the new iPhone 14 models.
2:06 pm: Now he's talking about the new iPads.
2:07 pm: And the new M2 Macs.
2:08 pm: And the new Apple Watch models and the AirPods Pro second generation.
2:09 pm: And the new iOS, macOS, watchOS, iPadOS and tvOS versions.
2:10 pm: Friday Night Baseball, Apple TV+ productions winning Emmy awards (9 wins, including 2nd consecutive win for Best Comedy Series).
2:11 pm: Now talking about Apple Fitness+ and Apple Card.
2:15 pm: Apple CFO Luca Maestri is taking over to talk numbers.
2:15 pm: Record results for September quarter, to cap record fiscal year despite a challenging and volatile macroeconomic backdrop.
2:15 pm: $90.1b up 8% yoy, despite 600bp of negative fx impact.
2:16 pm: Grew nicely in each geographic segment with strong double digit growth outside the US.
2:16 pm: All time high in installed base across all major product categories and geographic segments.
2:17 pm: $19.2 billion in services revenue, despite 600bp of FX headwinds.
2:17 pm: 42.3% gross margin, down 100bp due to unfavorable FX and different mix, partially offset by leverage.
2:17 pm: 34.6% product margin, up 10bp. Services gross margin was 70.1%
2:18 pm: Set records in vast majority of markets tracked. Particularly impressive in India and Thailand, Vietnam, Indonesia and Mexico more than doubling year over year.
2:19 pm: A great quarter for Mac, all-time revenue record, up 25% year over year.
2:19 pm: 3 key items, benefitted from the launch of the new MacBook Air and MacBook Pro powered by the M2 chip. Satisfy pent up demand carried forward from June quarter. As supply position improved, filled the channel. Investment in the category has attracted both upgraders and switchers.
2:19 pm: Quarterly record for upgraders, with nearly half of customers buying Mac in the quarter were new to the device.
2:20 pm: iPad revenue down 13%, due to significant FX and challenging compare due to the launch of new iPads a year ago. New all-time high thanks to customer loyalty and a high number of new customers. More than half of iPad buyers were new to the product.
2:20 pm: Watch and Wearables drove growth, to new all time record of installed base. Two thirds of customers buying the Apple Watch are new to the product.
2:21 pm: $19.2 billion in Services revenue. Achieved double digit constant currency growth in services, on top of growing 26% in the September quarter a year ago. Certain services affected by macro headwinds including foreign exchange.
2:22 pm: Continued installed base growth across each geographic segment and product category, represents great foundation for future expansion of the ecosystem. Increased customer engagement with services. Percentage of accounts that pay for services continues to increase. Plenty of opportunity ahead. Paid subscriptions showed strong growth. 900 million paid subscriptions across services, up 155 million during last 12 months. Double what we had 3 years ago.
2:22 pm: New content and features across service offerings. Added sports titles to Apple Arcade. Global partnership with Major League Soccer.
2:23 pm: For the year, diluted earnings per share grew 9%, $111 billion of free cash flow, up 20% year over year.
2:24 pm: Set records for iPhone, iPad and Mac in Enterprise. Grew strong double digits yoy as devices and services helped more companies empower employees and serve customers.
2:26 pm: Strong cash flow, returning $29 billion to shareholders during the September quarter. $3.7 billion in dividends, $25.2 billion through open market repurchases. $169 billion in cash and securities, repaid $2.8 billion in debt. Issued $5.5 billion of new debt. Total debt of $120 billion. Net cash is $49 billion.
2:28 pm: December quarter outlook, no revenue guidance but are sharing directional insight based on the assumption that macro outlook and covid-related impacts do not worsen. Overall, total company year over year revenue performance will decelerate in December quarter. Expect 10% of negative YoY impact from FX.
On Mac, have a challenging compare to last year, which had the benefit of the launch and channel fill of new MacBook Pro with M1. Mac revenue to decline substantially year over year. Services, to grow but impacted by FX and macro environment, digital advertising and gaming.
42.5% and 43.5% GM, opex to be between $14.7 and $14.9 billion, tax rate around 16.5%. Cash dividend of $0.23/share.
2:31 pm: Q: How do you think about this iPhone generation, you've raised prices, seems to be mixing up on the negative side, investors worried about demand from higher prices. How do you expect demand to move, though I know things are uncertain.
A: iPhone grew 10% in the Q4 timeframe, customer demand was strong and better than we anticipated it would be. Keep in mind, this is on top of a fiscal year of 2021 that had iPhone revenue grow by 39%. It's a tough compare as well. We were happy with it. In terms of the new product, iPhone 14 and 14 Pro and Pro Max, it's still very early. Since the beginning we've been constrained on 14 Pro and Pro Max. We continue to be constrained. Working very hard to fulfill demand. Difficult to say what mix will be before we can satisfy demand because we're not able to determine the accurate mix until then. We're working hard to do that. Were really pleased with the broadness of the iPhone strength last quarter. Had 3 of top 4 smartphones in the US and UK, top 3 in Urban China, top 6 in Australia, 4/5 in Germany, and Top 2 in Japan. Customer Sat remains strong at 98%. We feel very good about how we performed in Q4, and certainly the start of this generation would suggest that we're going to be constrained for a little while on 14 Pro and Pro Max.
2:33 pm: Q: Gross margin puts and takes... 10 bp of currency this coming currency, is not unprecedented but maybe it is. Hedges, flowing through, what other components should we throw into the mix as we look forward?
A: Gross margin in Q4, it was a September quarter record, 42.3% in spite of very significant negative FX. Q4, sequential, FX was negative 70 basis points. Year over year, negative 170 bp. Every currency around the world has weakened against the dollar.
We have guided Q1 to 42.5-43.5, in spite of the fact that we have a year over year, 330 basis points of negative FX. Sequentially 120bp unfavorable. Strong dollar makes it difficult in a number of areas, pricing in emerging markets, translation of that revenue back into dollars is affected, but on the positive side, we are seeing commodities behave fairly favorable for us and we believe we can offset the negative FX that we're seeing, and the guidance that we provided reflects that. Gross margin guidance takes into account FX and inflationary pressures, but the outcome is a good one.
2:35 pm: Q: Saw divergence in iPad vs Mac performance, both constrained from supply perspective. What are important factors to divergence in performance and whether we get through December quarter will those reverse or normalize?
A: If you look at Mac, the best quarter we've had in the history of the company. Helped by the product launch of MacBook Air with M2, helped by the previous quarter, June quarter, we lost output from the factory for a significant portion of the quarter, so we had a backlog exiting Q3 headed into Q4. We were able to satisfy all of that demand during Q4 and fill the channel for the Mac. That led to an incredible Mac quarter.
iPad had the opposite happening from a launch point of view. a year ago, we launched iPad in September. This year we launched in October. iPad Pro just launched before the quarter started last year. Exceptionally strong iPad quarter a year ago, the launches were really key to that performance. That's the reason iPad contracted during this quarter.
2:37 pm: Q: What effect will the 14-week quarter have?
A: In general we have a few more days in the quarter and will affect revenue and cost. Not every week is equal, certain peaks during the quarter, black friday or Christmas, but in general we're adding a few days of sale and additional OpEx on the cost front. That's what happens to us every six years as we need to align our weekly calendar to the fiscal calendar.
2:39 pm: Q: Services, there's been some price adjustments with respect to Music, TV+ and the One bundle. How do you balance the consumer price with your costs and the follow through?
A: The price increase that you reference, we announced a price increase on Apple Music, TV+, and then Apple One that includes both of those. There's two different situations here. With Music, the cost of licensing increased and so we're paying more for Music. The good thing about that is the artists will also get more money for their songs that are enjoyed on streaming. There's some bit of good news there I suppose. On Apple TV+, if you look at when we first priced it, we only had a very few shows. We were at the beginning, focused on originals only, had 4-5 shows at the beginning and priced it quite low. We now have a lot more content, and coming out with more each and every month, and we've increased the price to represent the value of the service. Apple One is the consolidation of those two price changes.
2:40 pm: Q: Last couple of years cap ex has been relatively stable.
A: Fairly stable, capital intensity is very good. Three buckets of cap ex. Certain dedicated tools for manufacturing facilities. Some spend around data centers. Spend around our office facilities around the world. We monitor all of them, but there is nothing unusual that we see for the next 12 months.
2:43 pm: Q: Can you give us a sense of what drove wearables results and the strength there? Strong iPhone attach rates or new products? Or benefit from customers more willing to come into store and try things on vs during the pandemic?
A: If you look at Wearables we grew 10%, which we were very happy with. If you look at the individual pieces of that, Apple Watch was a contributor and in particular the new lineup was a contributor including Series 8 and Ultra and SE. The Ultra was supply constrained and continues to be thus far this quarter. Working hard to satisfy demand there and get products to customers. Announced and launched the AirPods Pro in September, and the reviews for the product have been off the charts in terms of noise cancellation and sound quality. Great reviews from there. In terms of what played the other way, headwinds, obviously FX was a headwind that affected everything. We also had effect from the business in Russia, impact there. That's the pro and the con. About 2/3 of Apple Watches that we sold were to customers that had not previously owned an Apple Watch, so we're still very much selling to new customers here which is very good for the future.
2:44 pm: Q: On Mac, can you quantify how much the channel fill and how much came from satisfying backorders from June period, just a sense of what the baseline is, what would it have grown if not for those factors?
A: All three of the reasons that I gave were key in achieving 25% growth. M2 MacBook Air launch, satisfying backorders from the previous quarter, and filling the channel. All of those were contributors.
2:46 pm: Q: Could Services be impacted more by FX than product? When we go into store and buy watches and iPads prices are adjusted more quickly versus services changing once a year? Or am I reading too much into FX impact on services vs product?
A: The FX impact on our business depends on the geographic mix of the sales that we do. Services and product can have slightly different effect on FX. If we look at Services in constant currency, we would have grown double digits so we're very pleased with that. There were some areas that we saw some softness, digital advertising. Gaming on the App Store was affected. But we were very happy with what we saw in terms of the behavior of customers, engagement of services. The fact that installed base is growing, that's a positive and a great foundation for the future. We have seen more transacting accounts and more paid accounts. Paid accounts growing faster than new accounts, so penetration is increasing. Great subscription business. 900 million paid subs on the platform. Growing very fast. Doubled in 3 years. Look at those dynamics, that's what's really interesting to us because we really believe that the engine for services growth is there and FX is a temporary thing but fundamentals are very good.
2:48 pm: Q: iPhone trajectory, fair amount of focus for iPhone demand due to macro worries. Given strength you're seeing, where do you think channel inventory is vs historical perspective, and do you see channel getting to optimal level by the end of the quarter? Revenue driven by supply vs demand?
A: If you look at where we ended the September quarter, we exited below our target inventory range on iPhone. That is not too unusual in the quarter, we start the ramp and demand is robust and so forth. So, I wouldn't call it that abnormal from the past.
2:49 pm: Q: Talking about digital advertising a fair bit, but is there any metrics to give us a sense of how big this business is and could you talk about... do you think Apple could build an advertising business at scale without sacrificing consumer privacy?
A: First and foremost we focus on privacy. We would not do anything that stepped away from that. We feel that privacy is a fundamental human right. Our advertising business is not large relative to others. We don't release exact numbers but it's clearly not large.
2:54 pm: Q: Inflation pressures and labor problems here in the US and globally, can you talk about what steps Apple can take to mitigate those, and FX is becoming a pretty significant headwind, is there anything that can be done to mitigate that?
A: In terms of the people piece, we're focused on taking care of our teams and offering them the best benefits and best compensation so that we can empower them to do the best work of their lives. That's what we're focused on in terms of teams.
In terms of inflation, there's clearly wage inflation, there's inflation related to logistics as well, compare to prepandemic levels, that has not returned to prepandemic levels by any means. There are certain silicon components that have inflationary pressure as well. That's not an all-inclusive list of where we see it, but some ingredients. We've obviously taken that into consideration into the gross margin guidance that Luca gave.
On FX, it's obviously a very significant factor that's affecting our results, both revenue and gross margin, what do we do about a situation like this with a very strong dollar? We hedge out exposures, try to hedge them in as many places as possible around the world. I think we've been the first company that started hedging exposure in China several years ago. There may be some small currencies where we don't hedge, but we try to hedge because it gives us significant level of margin stability. Obviously over time, that protection reduces because the hedges roll over and we need to buy new contracts, but that's the primary tool that we use to offset some of the FX pressure. Of course, when we launch new products, we look at FX situation and in some cases customers in international markets saw price increases when we launched new products which is not something US customers have seen. That's unfortunately the situation we're in with teh strong dollar. That's how we try to deal with that. One of the things we appreciated the most was that in spite of the very strong dollar and difficult FX environment, we saw very strong performance in many international markets, including very large emerging markets where even in reported currency, US dollars, we saw double digit growth in India, Indonesia, Vietnam, Mexico, many places we've done incredibly well. In local currency, those growth rates are even higher. It's important for us to look at how these markets perform in local currency, it gives us a sense of customer response to our products and in general the strength of the brand. In that respect we feel very good about the progress that we're making in a lot of markets around the world.
2:55 pm: Q: Are we still looking at a positive number or a growth rate negative for next quarter?
A: What we said was that we're be decelerating from 8% growth on revenue, we're not providing guidance. Keep in mind the 10 points of Exchange. In normal times we'd be talking about very different numbers.
2:57 pm: Q: Cash and capital allocation, given valuation for some private and public companies, would you be more aggressive with acquisitions or does holding on to cash become more attractive?
A: In terms of acquisitions, we averaged about 1 per month across fiscal 2022. We're constantly looking in the market at what's out there and what things would be synergistic and which things would provide IP or talent or preferably both that we would need. We're constantly looking at acquisitions of all sizes.
In terms of cash deployment, we like to look at capital return program over the long arc of time. We have done, since the beginning of the program, we've done $550 billion of return at an average purchase price of $45. We still have net cash and we said we want to get to cash neutral at some point. Did $111 billion of free cash flow in fiscal 22, up significantly year over year. We will put that cash to use for investors.
2:57 pm: Q: For extra week in the quarter, does that offset FX, would negative FX be higher for 13 week quarter?
A: No, those are percentages, so 10 points wouldn't be different between 13 or 14 weeks.
2:58 pm: The call is concluding.