Apple Wallet App Now Shows Balances for Discover Credit Cards
U.S. Discover users who add their credit cards to Apple Wallet can now see their total card balance and transaction history right on the iPhone with iOS 17.1 beta 3, which came out today.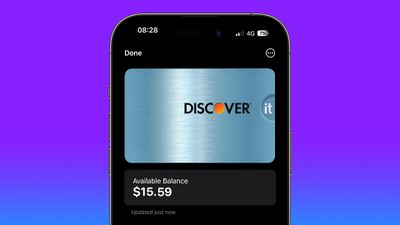 Apple added the transaction and card balance functionality to the Wallet app as part of its Connected Cards feature, according to 9to5Mac. Tapping on one of the listed transactions in the Wallet app will take users to the Discover app or website for more information. As of right now, this feature is only available for Discover card holders as Apple must work with each U.S. credit card provider or bank to implement support.
A limited number of credit cards have previously supported full transaction history, such as American Express but total credit card balance has not been available.
Apple in the initial iOS 17.1 beta began allowing ‌iPhone‌ users in the UK to view the account balances of their bank cards and credit cards in the Wallet app. UK banks support Apple's Open Banking API to integrate with the Wallet app, and the feature is much more widely available to UK users. Barclays, Monzo, Starling, HSBC, Lloyds, and RBS all support card balances in the Wallet app.
Following the release of the UK banking feature, MacRumors discovered that code in iOS 17.1 and references on Apple's website suggested that the feature would expand to the United States, which turned out to be accurate.
Apple will likely partner with additional U.S. banks and credit institutions as the launch of iOS 17.1 approaches.