Gurman: Vision Pro 2 Development Focusing on Size, Weight, and Prescription Lenses
Early work on Apple's second-generation Vision Pro headset focuses on reducing the device's size and weight, as well as an improved experience for users who need prescription lenses, according to Bloomberg's Mark Gurman.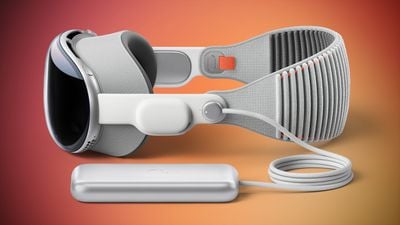 In the latest edition of his "Power On" newsletter, Gurman explained that Apple's Vision Products Group has moved onto next-generation headset models and is considering several options, including lower-end and more powerful versions. The work, which remains early, seeks to make the device lighter and slightly smaller to address complaints that the first-generation Vision Pro feels too heavy on the head.
Apple is also apparently exploring how to make a headset purchase simpler for those who wear glasses. The first-generation Vision Pro requires wearers of glasses to separately purchase Zeiss prescription lenses that snap on to the displays using magnets. The company reportedly made this decision to reduce the overall thickness of the headset, but the need to stock thousands of different lens combinations is reportedly proving difficult.
With the second-generation, Apple is considering shipping custom-built Vision Pro headsets with preinstalled prescription lenses directly from the factory. Gurman notes that this invokes a different set of problems with sharing a headset, reselling it, and when a user's optical prescription changes over time.
According to other reports, the second-generation Vision Pro headset is not expected to launch until around 2025 to 2027. The first-generation launches early next year.