Spotify CEO on Apple and Google: 'If You Want to Be the Referee, You Can't Also Be the Player'
Spotify CEO Daniel Ek is urging lawmakers in the United Kingdom to adopt a bill that would regulate competition in digital markets, cutting down on the dominance of Apple, Google, and other large tech companies.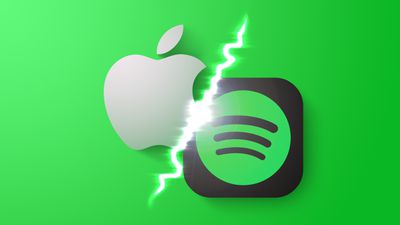 The Digital Markets, Competition, and Consumers Bill (DMCC) that the UK is developing would allow competition authorities to impose conduct requirements on companies and "promote competition" when a company's policies are "having an adverse effect on competition." Ek has long advocated for legislation that hobbles Apple's ability to both offer a platform (iOS) and compete on that platform with apps like Spotify rival Apple Music.
In an interview with Financial Times, Ek said that Apple and Google's control over how billions of consumers access the internet is "insane."
"Not only are they dictating the rules, they also compete directly downstream with those providers," said Ek. Ek wants the UK bill to make sure that a company that's the referee in the digital market "can't also be the player." The DMCC needs to have "real teeth" he said, adding that the bill is for all developers. "More and more of these developers are now finding that Apple is a competitor," he said.
If passed, the DMCC would give the UK's Competition and Markets Authority the power to impose multibillion-pound fines for large companies that breach the established rules. Tech companies would be required to provide more transparency about how their app stores work, with regulators able to open up specific markets like app stores or search engines.
Spotify has been in a feud with Apple for years, with the dispute between the two companies most recently heating up in 2022 when Apple rejected a Spotify app update that added audiobook support. Spotify back in 2019 filed a regulatory complaint in the European Union over Apple's App Store practices, which is still under investigation, and the company has also backed the Open Markets Act in the United States, legislation that would require Apple to allow for sideloading and alternate app stores.