Kuo: Apple-Designed 5G Modem for iPhones to Debut in 2025
Apple plans to use its own modem chip for iPhones starting in 2025, according to information shared today by supply chain analyst Ming-Chi Kuo. He previously said the fourth-generation iPhone SE would be Apple's first device with the custom-designed 5G modem, but it's not entirely clear if this is still the plan anymore.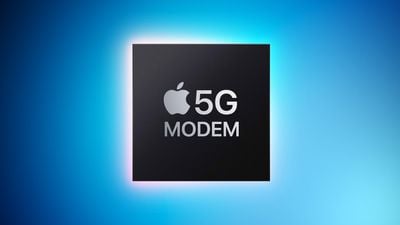 In July, it was reported that mass-production of the fourth-generation iPhone SE was delayed until 2025, so there is still a chance that it could be the first device with Apple's modem, but there have been conflicting rumors about the project.
Apple has reportedly been planning its own modem for over five years, and it acquired the majority of Intel's smartphone modem business in 2019. Based on the 2025 timeframe, iPhone 15 and iPhone 16 models are expected to stick with Qualcomm modems. The switch to an Apple modem could begin with a future iPhone SE and iPhone 17 models, if previously reported development challenges can be overcome.
It's unclear if an Apple-designed 5G modem would have any consumer benefits over Qualcomm modems, but it would reduce Apple's reliance on Qualcomm on the supplier side. In 2017, Apple sued Qualcomm over alleged anticompetitive practices and $1 billion in unpaid royalty rebates. The two companies settled the lawsuit in 2019.