Apple Released the First iMac 25 Years Ago Today
Today marks the 25th anniversary of the iMac, Apple's all-in-one desktop computer released on August 15, 1998.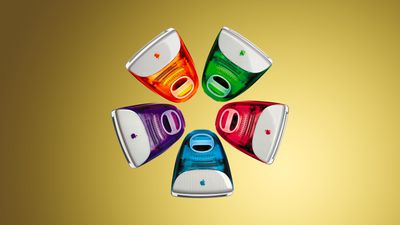 Characterized by its striking translucent casing and 15-inch CRT display, the ‌iMac‌ was a departure from conventional computer design of the time. The machine led the way with several industry innovations, including the adoption of USB and FireWire, while simultaneously phasing out the floppy drive and other outdated ports. The computer came with a PowerPC G3 processor, 4GB hard drive, 32MB of RAM, a CD drive, two USB ports, and an Ethernet port, reflecting the emerging importance of internet connectivity at the time.
The ‌iMac‌'s design has evolved significantly over the years. In 2002, the ‌iMac‌ G4 was introduced with a unique dome base and flat-panel display. 2004 saw the launch of the ‌iMac‌ G5, a design that integrated all components behind the display, setting the standard for future all-in-one designs.
Apple unveiled the aluminum and glass unibody ‌iMac‌ in 2007 and added a Retina display to the machine in 2014. Apple introduced an "‌iMac‌ Pro" variant in 2017, and, in 2021, the ‌iMac‌ was completely redesigned once again with the transition to Apple silicon.
As the ‌iMac‌ reaches this significant milestone, it continues to be the leading all-in-one computer and a prominent product in Apple's lineup. While the ‌iMac‌ did not receive an upgrade to the M2 chip, a refreshed model with the M3 chip is expected to launch toward the end of this year. Further in the future, Apple is expected to launch an even bigger and more powerful ‌iMac‌ model in what could be a reintroduction of the iMac Pro.