Chrome Browser for iOS Getting Improved Translation, Google Lens and Maps Features
Google today outlined several new features available for or coming to the Chrome app for the iPhone and iPad, including deeper integration with Google Maps, Google Calendar, and Google Lens.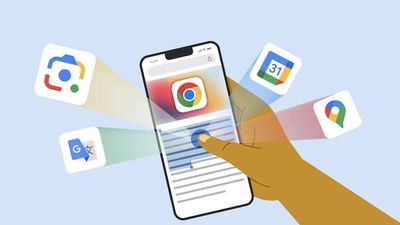 Chrome for iOS now uses AI to detect addresses on webpages and show a location directly on a mini version of the Google Maps app in Chrome, so there's no need to swap apps to see map-related information about a search term.
Google Calendar events can be created directly in Chrome without needing to swap apps. Chrome users can press and hold on a detected date and choose the option to add it to Google Calendar. The Chrome app will automatically create and populate the calendar event with time, location, and description.
Google has expanded the translation functionality in Chrome, and it is now possible to highlight a specific passage and long press to get a translation right in the Chrome Browser.
With upcoming deeper Google Lens integration, Chrome users will be able to use the camera to search new pictures and pictures in the camera roll to identify plants, translate languages, and more. The Lens icon will show up in the Chrome on iOS address bar.
Chrome for the ‌iPhone‌ and the ‌iPad‌ can be downloaded from the App Store for free. [Direct Link]