Report: Apple Executives Cautious of Mixed-Reality Headset Amid Compromises
Key Apple executives including Tim Cook, Craig Federighi, and Johny Srouji have kept their distance from the company's mixed-reality headset throughout its development process amid a series of setbacks and compromises, according to Bloomberg's Mark Gurman.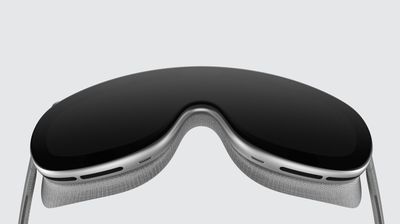 Apple headset concept render by Marcus Kane.
Apple apparently began developing its headset in 2015, using Samsung's Gear VR and the HTC Vive in early experiments. The headset has reportedly deviated significantly from CEO ‌Tim Cook‌'s original vision. The product was initially imagined as "a pair of unobtrusive eyeglasses that could be worn all day," but it has now become a full-blown headset that looks like a pair of ski goggles and requires a separate battery pack due to technological limitations, internal disagreements, and a rush to bring an Apple AR/VR product to market.
Despite Cook's unwavering view that the device should focus on unobtrusive augmented reality, he was reportedly not deeply engaged in its design and chose to only participate in demonstrations. Cook's "relative noninvolvement" has sometimes been seen as indecision and caused frustration among staff, leading to delays and concerns about obtaining resources.
Key figures including software chief Craig Federighi have also kept their distance from the headset during its development and have seemed wary of it. Apple's senior vice president for hardware technologies, Johny Srouji, is believed to privately be a skeptic of the device, comparing it to a science project. He has warned that designing the high-performance chips that the headset requires could distract from new iPhone chips that drive more revenue.
By 2017, Apple purportedly believed that the headset could go on sale by 2020, but the project was mired by hardware and software challenges, and disagreements about which applications to develop for the device. Some of the headset's features, including the ability to function as an external monitor for a Mac and multi-person video calls, are currently said to be less advanced than Apple originally intended. The company allegedly hopes that "third-party apps will save it." Apple is already in talks with software and game developers, as well as as entertainment companies, to have apps and content ready for the device by the time it goes on sale.
Apple wishes that users will eventually wear a head-mounted AR device continuously all day, replacing tasks currently accomplished on other devices such as the ‌iPhone‌ and Mac, including web browsing, gaming, email, video calls and collaboration, working out, and meditation, but does not expect this to happen immediately. Internal projections estimate that the product category has the potential to eventually be as big as the Apple Watch or iPad following the addition of new features and a lower price point with new versions of the device.
While Apple initially hoped to sell three million units within the device's first year on sale, it now expects to sell around 900,000 headsets. The company has decided to sell the device at its approximate cost to make, rather than sell it at a loss as it originally considered. The headset is still on schedule to be announced at WWDC in June.