Photomator Photo Editor Now Available on Mac
Photomator 3.0 today got its official release on macOS, bringing Pixelmator's iPhone and iPad photo-editing app to MacBooks and Mac desktops for the first time.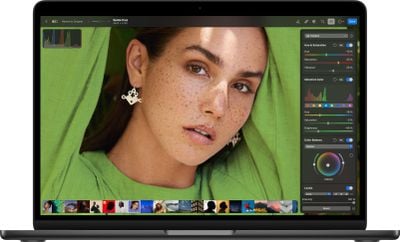 With an interface that will be familiar to users of Photomator on iOS and iPadOS, the Mac app includes a fully fledged photo browser with native Photos app integration, allowing users to organize, duplicate, share, and favorite images, as well as sync edits between Photomator and the ‌Photos‌ Library.
The app includes nondestructive tools to crop images, adjust colors, or repair and clone objects in photos, and users can edit specific parts of photos and make automatic subject, sky, and background selections.


According to the developers, machine learning algorithms enable users to increase the resolution of photos without noticeable reductions in detail or sharpness, match the colors of two photos, and remove camera noise. Photomator for Mac also supports batch-editing workflows and includes a Workflows browser, allowing users to crop images, adjust colors, and automatically apply edits to other images.
The app includes support for over 600 RAW image formats, and features built-in integration with Pixelmator Pro, which supports many Photomator edits, including selection masks and perspective corrections.
Apple Silicon should also bring a boost to Photomator workflows. Built for macOS using SwiftUI, the app runs on Mac mini models with M2 Max and ‌M2‌ Pro chips more than 20 times faster compared to the most recent Intel-powered Macs, claim the developers.


Photomator for Mac is available to download today from the Mac App Store and offers a subscription model ($29.99 yearly, $4.99 monthly) or a lifetime purchase fee ($99.99).